Soya Ginger Chicken ..a variant!
Back after the rice porridge recipe with a new post. Its been quite some time since I posted a non veg recipe. Soya chunks have always had their fav place with my kids and I keep trying out more variations with it .The soya chunks have the best source of fiber and is quite high in protein content.
Its like the magic pill bundled up with all the good things. Last Sunday I was planning on what to cook for dinner and then popped up with this recipe of Soya Ginger Chicken.I have been using both sizes of soya chunks for my cooking..but have always found a soft spot for the mini soya chunks on count of their delicacy.
Soya Ginger Chicken
2015-12-08 21:57:16
Nutrition Facts
Amount Per Serving
* Percent Daily Values are based on a 2,000 calorie diet. Your Daily Values may be higher or lower depending on your calorie needs.
Ingredients
½ kg of Chicken cut into small pieces
1 cup of mini soya chunks
2 tsp of Soya sauce
2 tbsp of ginger sliced finely
2 tbsp of garlic sliced
2 large onions chopped
1 tbsp of Kashmiri chilli powder
1 tsp of Garam masala powder
2 tsp of coriander powder
3 tsp of Chicken masala powder
1 tsp of black pepper powder
1 tomato pureed
3 tsp of oil
Salt to taste
For Tempering
¼ cup of sliced big onion
4-5 green chillies slit
Oil
Curry leaves
Instructions
Soak the soya chunks in hot water for about 15minutes.
 Heat oil in wok, sauté ginger and garlic, chopped onion till translucent.
 Pour in the soya sauce and keep stirring, add in the chilli powder, coriander powder,
pepper powder, garam masala powder and chicken masala powder.
 Stir till the raw smell from the powders subside.
 Add in the pureed tomato paste, ½ cup of water and let it simmer.
 Wash the soya chunks in cold water and squeeze them out into the sauce along with
the chicken pieces.
 Add required amount of salt and cover and cook the chicken till tender.
 Thicken the sauce so that the chicken & soya are coated and turn off the flame.
 In a small pan fry out the sliced onions till in caramel color along with the slit green
chillies and curry leaves.
 Temper the dish with the fried items and add 2-3 tsp of chopped coriander leaves
before serving.
 Best served with rotis and fried rice.
Adapted from Nimi's Culinary Ventures
Adapted from Nimi's Culinary Ventures
Nimi's Culinary Ventures https://nimisrecipes.com/
Heres the feature that came up in the magazine Mahila Chandrika a Chandrika daily publication..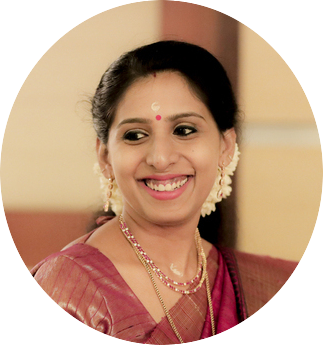 A homemaker who fell head over heels in love with food -an award-winning cookbook author, food blogger, award-winning culinary demonstrator