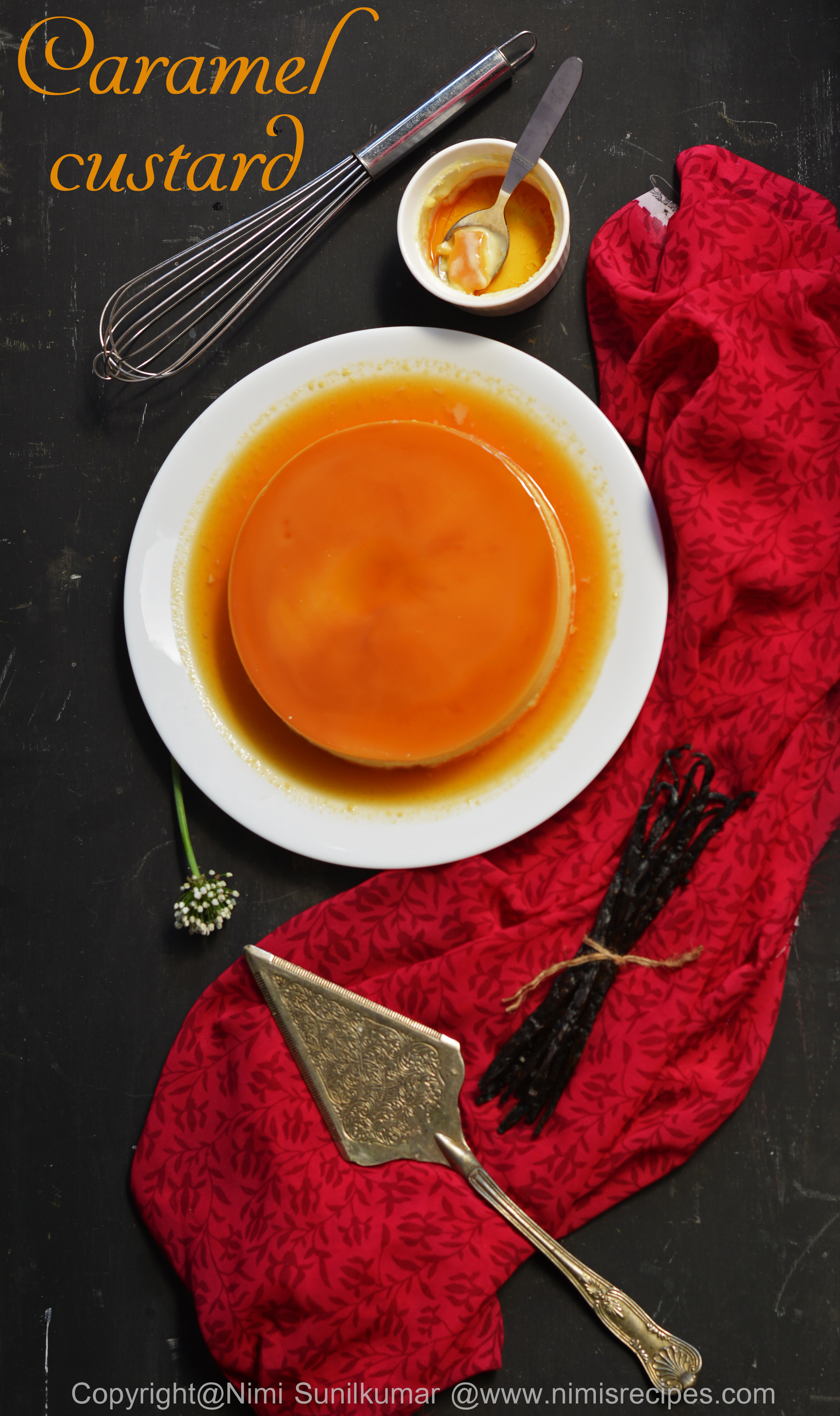 A spin of the time wheel and back to being a child …..gosh wish that happened !!!When you are a child all you wish is to be a grown up and you get to do things that you want to do and when you are grown up you are more bounded with all the worldly expectations that you least expected …well that's life !!!
The school has closed down for a ten day break and I am at my home (hehe..of course my parents' home ).For the past few months it's been a suffocating schedule that I have been hooked up to with my younger one being a bit sick .There's loads of news that has yet to be shared..a few are waiting to be yet unfolded.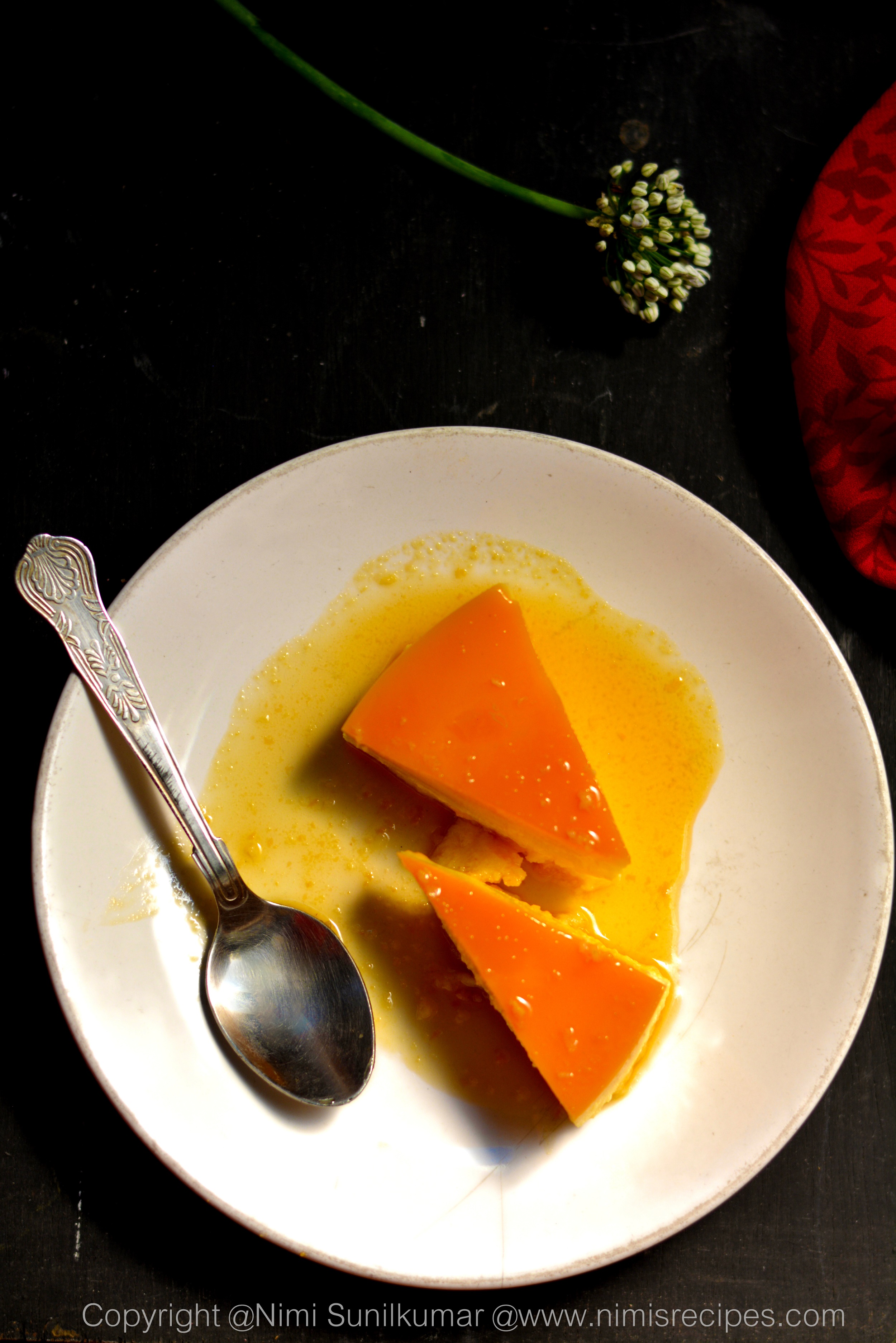 Today's post is one that I have always longed to post …Baked Caramel custard!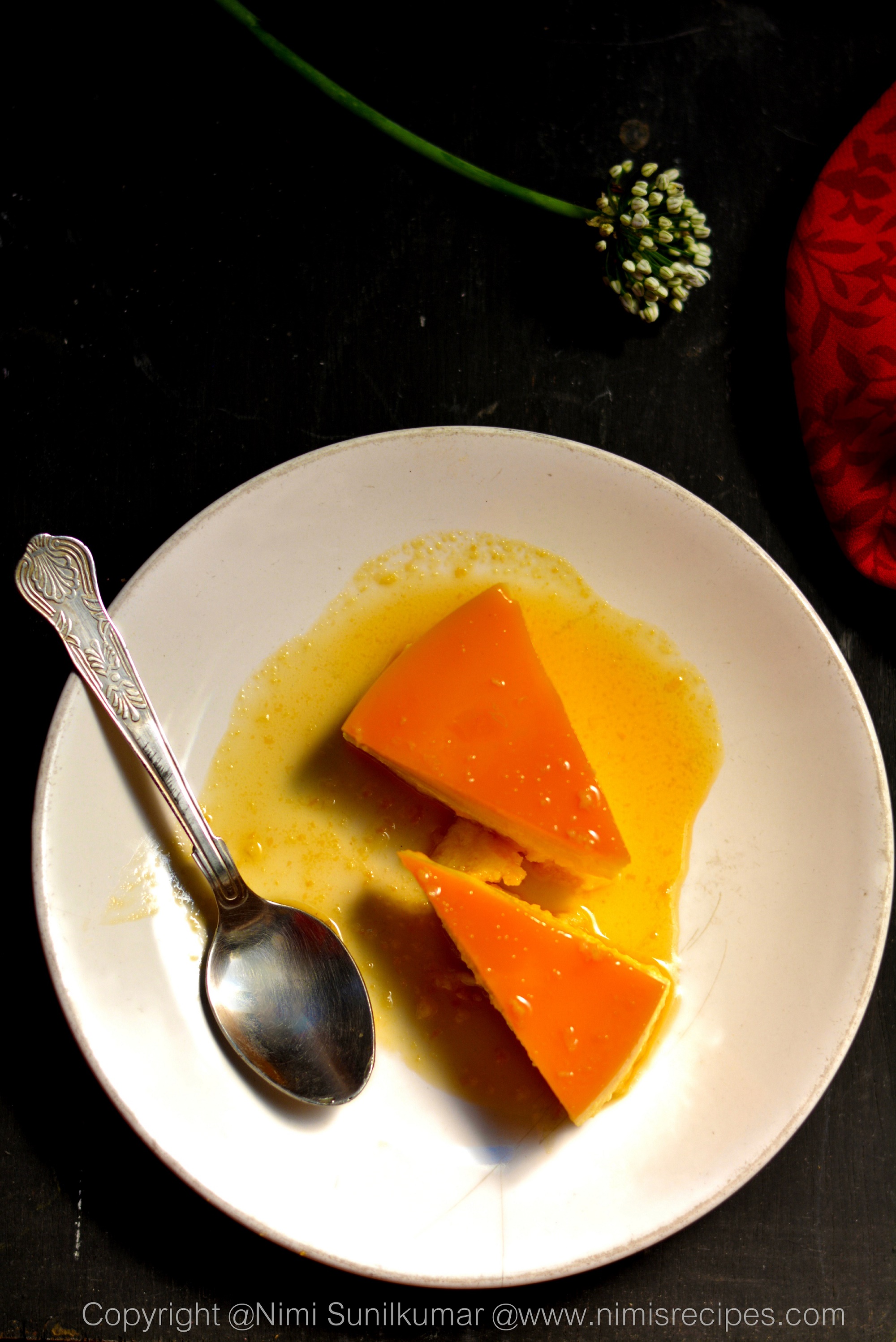 Caramel Custard
2016-03-27 01:45:09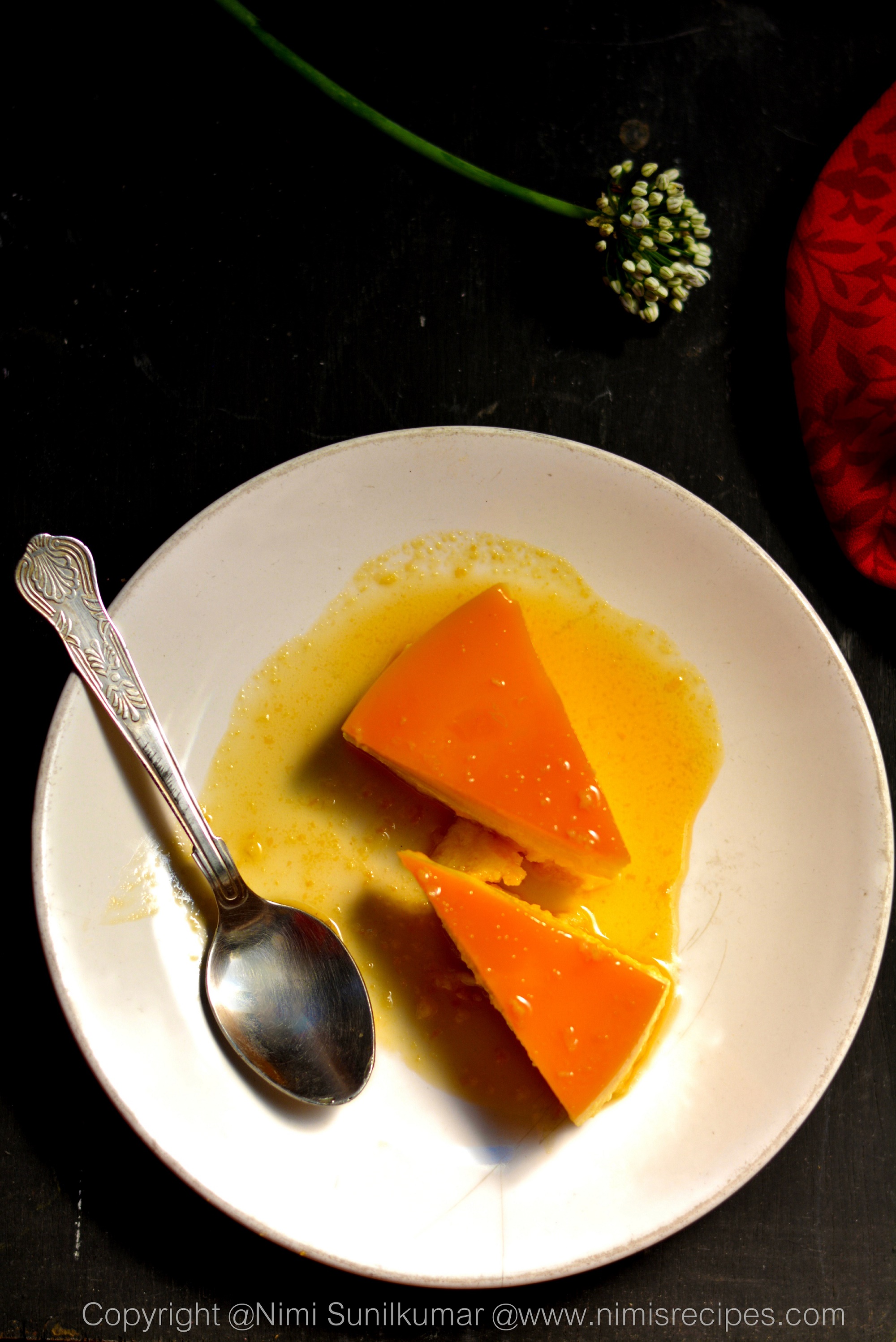 Nutrition Facts
Amount Per Serving
* Percent Daily Values are based on a 2,000 calorie diet. Your Daily Values may be higher or lower depending on your calorie needs.
Ingredients
2/3 cup sugar
1 can condensed milk
2 cups of heavy cream
2 tsps of cornflour
1 tsp of vanilla extract
5 eggs
1 cup of milk
Instructions
In a bowl using blender mix all the ingredients except sugar till creamy. Heat a non-stick pan and melt the sugar without stirring till the sugar is wholly caramelized. Pour the caramelized sugar on to the base of the baking dish to coat the base evenly. Pour the creamy mix over it .Preheat oven at 180 degree and bake the custard for about 60 minutes or longer till the custard is set in a water bath in the oven. Once baked remove it from the water bath and let it cool down .Run a knife on the edges of the pan and invert it on to a plate. Cut in desired shapes and serve .
Nimi's Culinary Ventures https://nimisrecipes.com/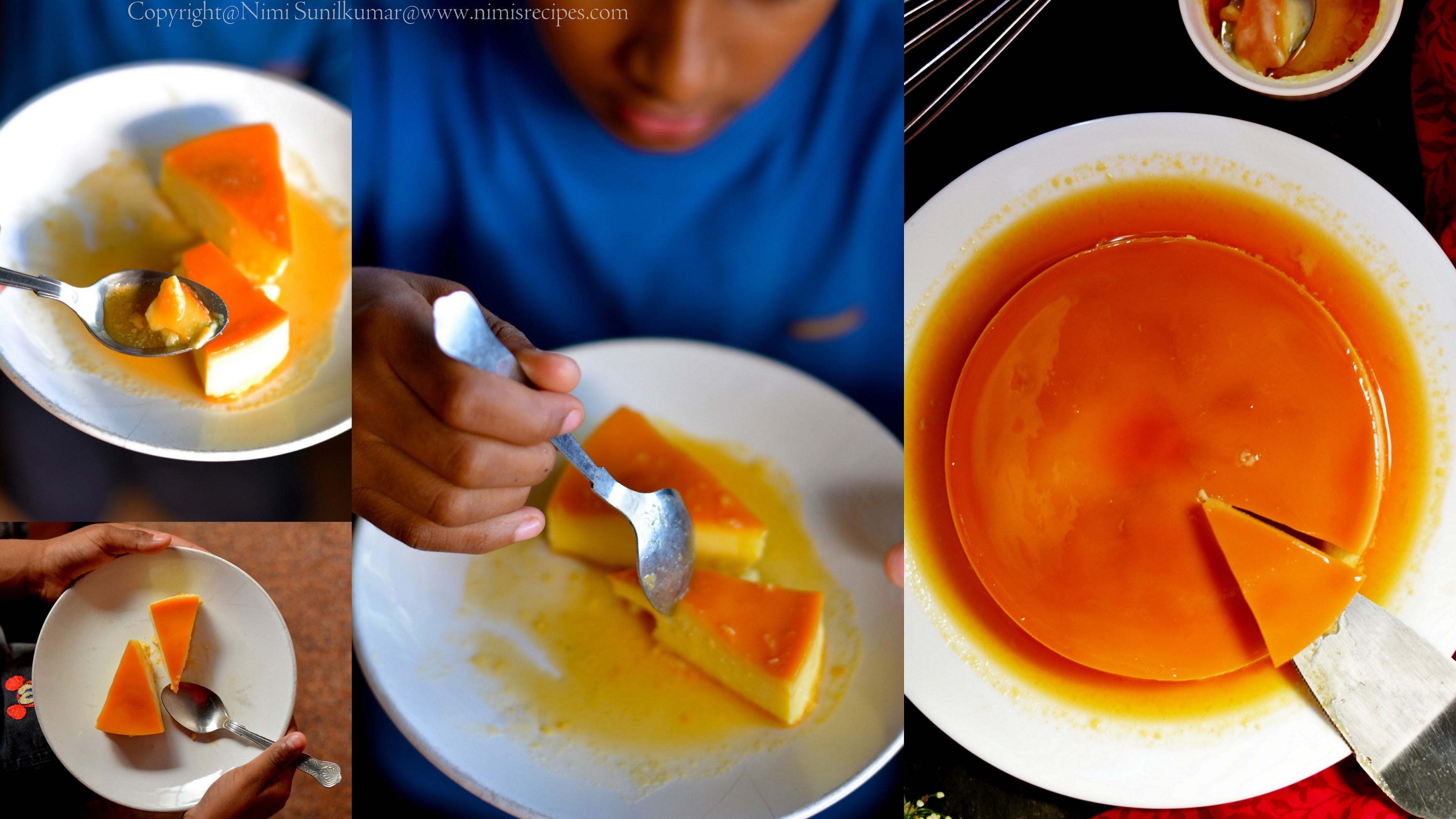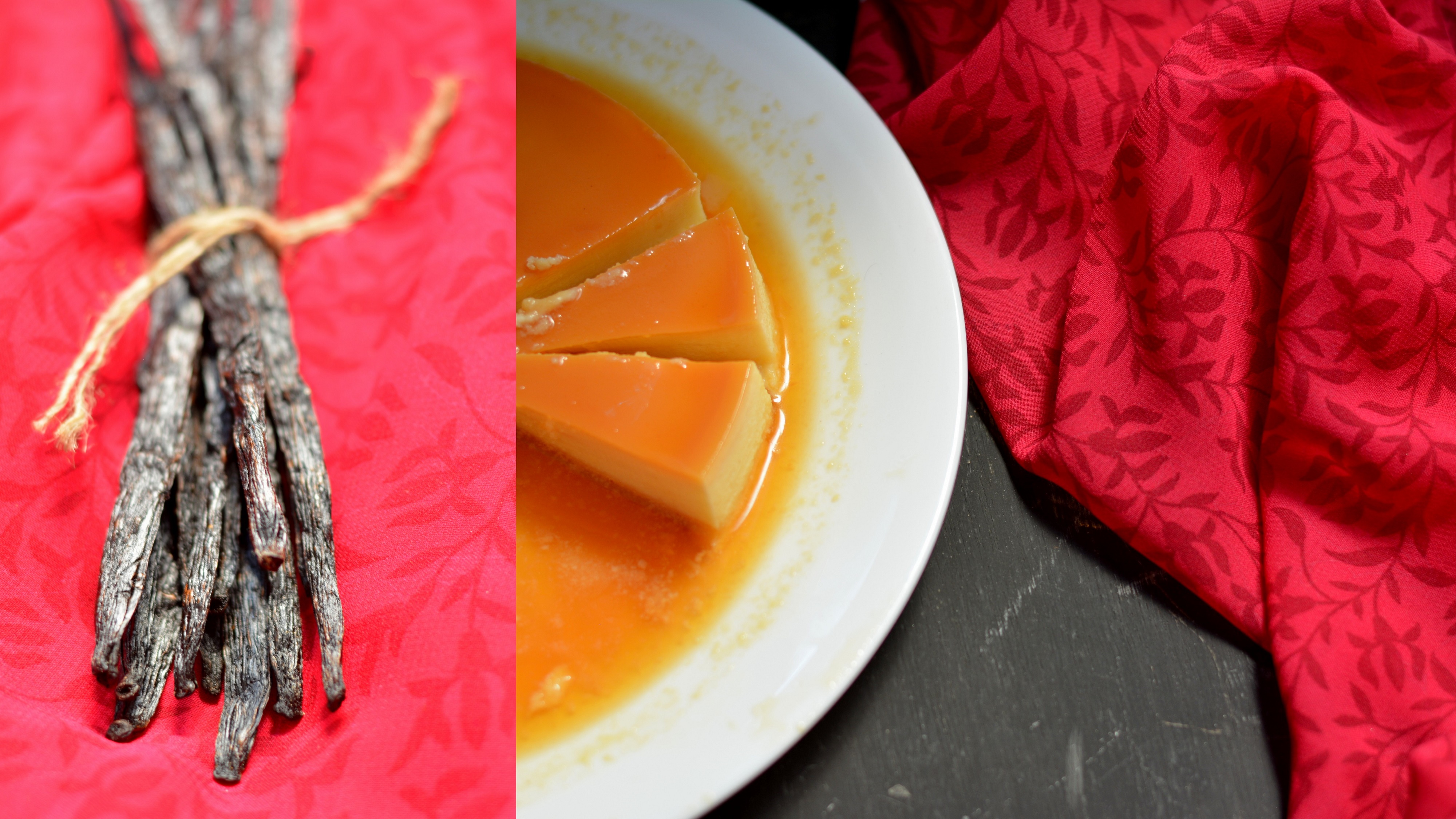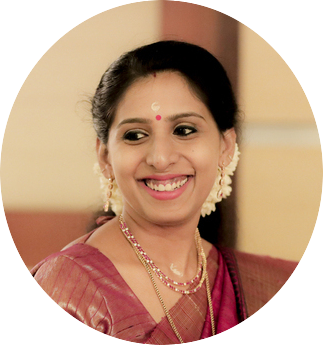 A homemaker who fell head over heels in love with food -an award-winning cookbook author, food blogger, award-winning culinary demonstrator
For the past two weeks have been wanting to pen down my events in life and as usual have not been able to do much.:P Hmm… where should I start …ok one day I was at school and get a mail with a notification with an invite to participate for an Indian Women Entrepreneurs Expo organised by Times of India.I speak to the people in charge and there goes a zing in my mind to participate for the event.Three days of fun at Abadplaza , Cochin.. totally new experience meeting many talented women in different areas of business.On the last day of the expo I was among the Best Ten Women Entrepreneurs of 2013..:)
I wanted to put up a creamy custardy recipe to give all the creamy effect that the event brought into my life.I was mentioned in writeups in Times of India ,Mathrubhumi and Deshabimani (a Malayalam newspaper) and was interviewed on All India Radio Cochin FM.So for all the good news up I thought of putting up a rich sweet and custardy Parsi recipe bookmarked from Goodfood.
Lagan nu Custard
4 cups of milk
150gms of sugar
6 eggs
400ml cream
1/2 cup of rosewater
50g of raisins
50 gms of almonds
1/2 tsp of cardamom powder
Butter to grease
Boil milk with sugar till it is reduced to 1/3rd of its original quantity.This takes about 20-30 minutes.Cool and keep aside.Preheat oven to180 degree celsius.Whisk eggs briskly and add all other ingredients except raisins to the reduced milk.Stir this into eggs and transfer to a greased baking pan.Bake in the oven for about 50-60 minutes or till a skewer inserted comes out clean and it is cooked.Leave to cool and refrigerate a couple of hours before serving.Cut into desired shapes and serve chilled.The raisins are to be added when baking is half done.
Enjoy your custardy treat 🙂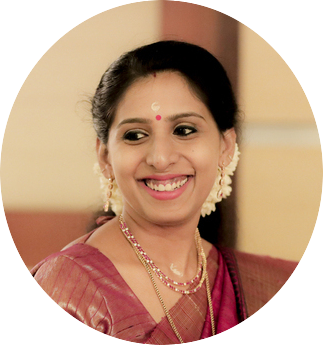 A homemaker who fell head over heels in love with food -an award-winning cookbook author, food blogger, award-winning culinary demonstrator