Lip Smacking Cooking Classes
Nimi SunilKumar, author of the award winning best-seller cookbook
"Lip Smacking Dishes of Kerala"and owner of the lip smacking food blog "Nimi's Culinary Ventures" is happy in sharing her exquisite skills in Kerala Cuisine.
Join, taste, and learn to cook delicious Kerala recipes in a matter of hours.
 Nimi's Lip Smacking classes are now functional , please write to nimi at
 nimi@nimisrecipes.com or Nimisrecipes@gmail.com to book in your slots.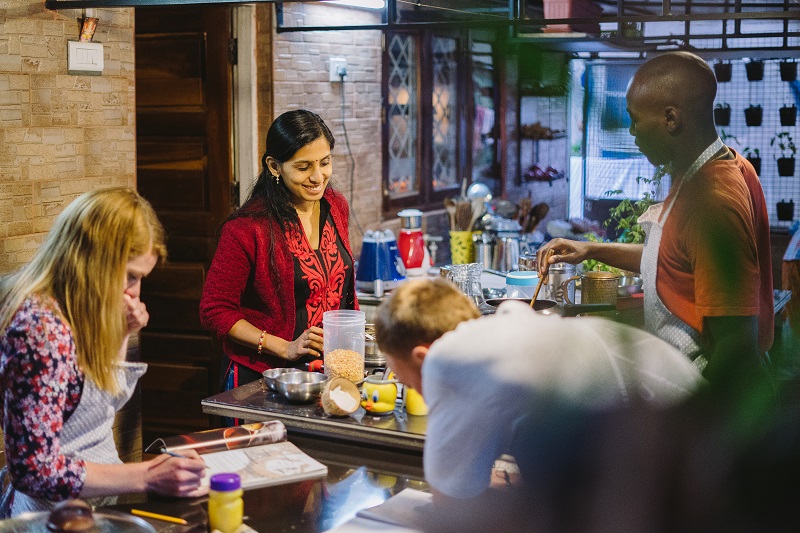 "I really enjoyed the cooking here,I've learned lots of new things and really good tastes.An excellent teacher for how to cook!:))"                         Liron Rosen,Israel

"We would like to thank Nimi for a wonderful afternoon with culinary experiences beyond our expectations!The class was highly informative and we learned a lot about Kerala spices and cooking methods.Thank you again for your wonderful hospitality and friendliness:D With all the best .."                                                                                                                       Cecilie Bjerknes(Norway) & Lasse Bundgaard(Denmark) 

"Hey Nimi ..Thank you so much for today,this has been a fantastic experience…and a delicious one!We love your book and having the opportunity to do some real hands on Indian cooking !  Best of luck for the coming year!We can se you having a lot of success if you continue this way!..Love ..Isabelle Stoner & Scarlett Snowden (Australia)

So many thanks Nimi for this irresistible afternoon in your magic kitchen!I will definitely try your recipes once back in France.You are really a good person and hope your love for cooking continues!All the best ,         Marketa Supkova( France)

Thank you for sharing all your lip smacking recipes!It was wonderful to meet you!we enjoyed how to learn to cook traditional Keralan food.We will practice at our homesin Canada with many friends & family.Thank you again..Dawn& Bruce,Canada

Wow! what a wonderful experience !We have learned so much about cooking traditional Kerala food.From Breakfast to lunch to desserts..everything was really really tasty..We enjoyed the personal latmosphere very much and had a lot of fun.Thank you for taking  time to share  so many useful cooking tips with us.we had a great day!  

Tobias &Santina,Germany