I have been quite busy now a days that I actually couldn't keep my posts updated.With the cookery classes started in Munnar by me..I rarely get time to sit down on my computer..I have been thinking to post this recipe for a long time.This one was shared by Sheeba ,our family friend.A special thanks goes on to my sis in law for helping me out with the recipe..cz i keep forgetting to write down the recipe.:DIf you have all the ingridients in hand you can cook this in half an hour.
TamilNadu Biriyani
For the 1st part
1/2 kg Chicken
4 tbsp curd
2 green chillies
1/2 tsp garam masala
salt to taste
Cook  the chicken with all the above ingredients  till its half cooked and separate the stock water.
For the paste
1 tbsp ginger garlic paste
pudina /mint leaves a handful
cilantro a handful
7 shallots
Grind all the above ingredients to make a fine paste.
For the 2nd part
2 cups of rice(washed)
2tbsp ghee
2 tbsp oil
4 green chillies slit
the ground paste
2 large onions sliced
2 tomatoes sliced
3 tsp of garam masala
1/2 tsp turmeric powder
4 cups of stock water
Heat ghee and oil in a heavy bottomed vessel and saute the large onions and green chillies together.Now add in the ground paste and tomatoes and saute till the tomatoes are cooked.Pop in the turmeric powder,garam masala and stir well.Add in the rice and chicken stirring well.Pour in the stock water and when it comes to boiling point add salt to taste.Keeping on medium flame  cover the vessel and cook till the water evaporates.Garnish with fresh cilantro.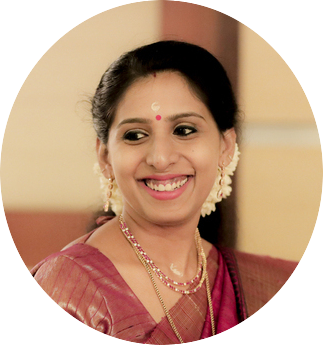 A homemaker who fell head over heels in love with food -an award-winning cookbook author, food blogger, award-winning culinary demonstrator
This recipe was shared to me by one of my friends.If you are fond of Biriyani, I bet you'll really love to taste this one. 
1/2kg Mutton pieces 
2 cups Basmati rice
4 large onions sliced
3 green chillies
1 tomato sliced
1 piece Ginger
7-8 cloves of garlic
1/2 tsp black pepper
1/2 tsp aniseed
3 cardamoms
3 cloves
a piece of cinnamon
Curry leaves
1/4 cup pudina leaves chopped
3/4 cup coriander leaves chopped
1 coconut scraped
Ghee
Oil
Salt to taste
Wash and strain the basmati rice.
Pressure cook the mutton pieces with 1/2 tsp turmeric powder ,1 tbsp kashmiri chilli powder ,salt and water.
Strain out the mutton pieces and keep aside the stock water.
In a heavy bottomed vessel  on flame ,pour 2 tbsp ghee .Fry and seperate  the strained rice.
In a mixer grind the ginger and garlic to paste form.
Extract coconut milk from the scraped coconut and mix it with the mutton stock water.
In the same vessel pour 1 tbsp ghee with 2 tbsp oil  fry the spices.Saute the onions,ginger garlic paste,green chillies(the green chillies are to be put without slitting.).Add tomatoes,curry leaves,pudina,coriander leaves and stir till an aroma comes.
Add 1/2 tsp turmeric powder,2 tsp chilli powder and 2 tsp Meat masala powder.Stir in the mutton pieces and rice.
Add 4 cups of the coconut milk stock  to the rice.
Add salt on boiling,cover the vessel with a lid and let it cook on medium flame.On cooking the water would have evaporated .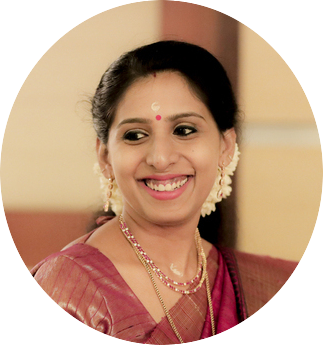 A homemaker who fell head over heels in love with food -an award-winning cookbook author, food blogger, award-winning culinary demonstrator
It seems that the name "Biriyani" was derived from the Persian language.The smell of spices really ignites our taste buds.The recipe that I 'm typing out was shared to me by one of my aunts.
1kg Chicken pieces  
1tbsp red chilli powder
1tbsp Coriander powder
1tsp garam masala
1/4 cup curd
2tbsp oil
3 cups of Basmati rice
2 pieces of cinnamon
4 cloves
3 cardamoms
1/2 part of a lemons juice
1 piece of Ginger crushed
6-7 cloves of garlic crushed
4-5 green chillies (Julian cut)
1/2 cup chopped coriander leaves
1 tomato sliced
6 cups of water
Salt to taste
Marinate the chicken pieces with chilli powder,garam masala,coriander powder,curd and salt.Keep it for 1/2 an hour.
In a heavy bottomed vessel pour oil fry  and seperate the cardamoms,cloves,cinnamon and rice by adding the lemon juice.
In the remaining oil add the crushed ginger and garlic,coriander leaves,green chillies and stir them well.Add the tomato pieces and stir it well.
Now add in the chicken pieces and mix well pouringabout 1/2 cup of water.Cover the vessel with a lid and let it cook till it gets half tenderized.
When the chicken is half cooked ,mix in the rice and spices ,pour the 6 cups of water and let it cook on low flame covered with a lid.
When the rice is cooked the water  would have evaporated completely.
For garnishing you can fry sliced large onions,nuts and raisins in ghee and mix with rice.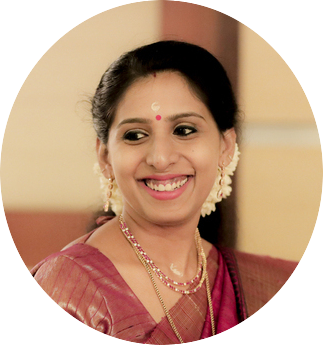 A homemaker who fell head over heels in love with food -an award-winning cookbook author, food blogger, award-winning culinary demonstrator