CHICKEN BIRIYANI
It seems that the name "Biriyani" was derived from the Persian language.The smell of spices really ignites our taste buds.The recipe that I 'm typing out was shared to me by one of my aunts.
1kg Chicken pieces  
1tbsp red chilli powder
1tbsp Coriander powder
1tsp garam masala
1/4 cup curd
2tbsp oil
3 cups of Basmati rice
2 pieces of cinnamon
4 cloves
3 cardamoms
1/2 part of a lemons juice
1 piece of Ginger crushed
6-7 cloves of garlic crushed
4-5 green chillies (Julian cut)
1/2 cup chopped coriander leaves
1 tomato sliced
6 cups of water
Salt to taste
Marinate the chicken pieces with chilli powder,garam masala,coriander powder,curd and salt.Keep it for 1/2 an hour.
In a heavy bottomed vessel pour oil fry  and seperate the cardamoms,cloves,cinnamon and rice by adding the lemon juice.
In the remaining oil add the crushed ginger and garlic,coriander leaves,green chillies and stir them well.Add the tomato pieces and stir it well.
Now add in the chicken pieces and mix well pouringabout 1/2 cup of water.Cover the vessel with a lid and let it cook till it gets half tenderized.
When the chicken is half cooked ,mix in the rice and spices ,pour the 6 cups of water and let it cook on low flame covered with a lid.
When the rice is cooked the water  would have evaporated completely.
For garnishing you can fry sliced large onions,nuts and raisins in ghee and mix with rice.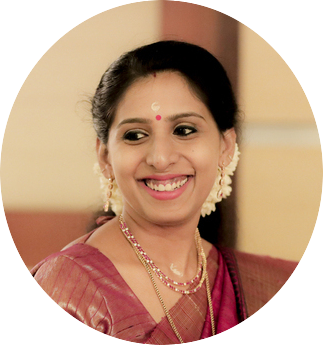 A homemaker who fell head over heels in love with food -an award-winning cookbook author, food blogger, award-winning culinary demonstrator