Jeeraka kanji ..the porridge to boost your immune!
It's been like ages that I have been wanting to post on my space.. There's loads of things that had gobbled up my time to write n my blog. Well when school closed up for the monsoon vacations this time round I was the most eager one compared to my munchkins to go "home".Oh yes…even though you are married although you have a home here ,you still quote ur parents place as "home". It's not only my personal experience,but I think most women have this "home"sickness.I really chucked on this only when my colleague brought it to my notice.It was almost a month that I got with my parents in Thrissur..but this time round there came up a few surprises with media interviews, write-ups and the best part was being felicitated by the Thrissur Mayor , Mr.Rajan Pallan at the Council Meeting.
Karkidaka masam/Ramayana Masam /Karkidaka month is considered the last month ie. the twelfth month according to the Malayalam calendar followed in Kerala.This year the Karkidaka masam started on July 17th and ends by August 16th.The sacred scripture , Ramayana is recited during this month and so this month is also known as the Ramayana masam. It is to welcome the new year ie.The Chingam month that the Ramayana is recited from the starting to the end of the month. In Kerala , Karkidaka kanji is very famous which is a medicinal rice porridge that is very much healthy .The monsoon months are considered to the most appropriate time to have medicinal rice porridge. On my stay in Thrissur , I had the opportunity to meet up with Dr.K.S.Rajithan (Medical Superintendent ) of Oushadi Panchakarma Hospital and Research Institute,Thrissur.Dr. says ,"Its during the monsoons that the immune system of our body deteriorates and we are more prone to sickness, digestive issues and many ailments. .Our ancestors used to have many practices with Ayurveda to boost their immune system . So this is in fact is the most suitable time to have different kanjis (rice porridges) in your diet." During my period of stay in Thrissur there was a "Kanji Mela"(Rice Porridge fest ) organised by the Oushadhi Panchakarma Hospital Canteen.It was indeed a feast out there with 11 varieties of rice porridges each with special benefits.It was the Kudumbasree unit(a women empowerment cluster ) working in the fabrication of flavoursome dishes and variant rice porridges.
So coming over to the recipe, for this post..it is Jeeraka kanji /Cumin rice porridge.The courtesy for the recipe goes to Dr.Rajithan. This is a pretty easy recipe and its only the ingredients that you have to get hold on to to make the medicinal mix.Its best to have it for 14 days in the monsoons..
Jeeraga kanji
2015-12-08 23:24:38
Nutrition Facts
Amount Per Serving
* Percent Daily Values are based on a 2,000 calorie diet. Your Daily Values may be higher or lower depending on your calorie needs.
Ingredients
For the Medicinal Cumin mix
2 tsps of cumin (jeerakam)
2 tsps of black cumin seeds (karinjeerakam)
2 tsps of long pepper (thippalli)
2 tsps of Carom or Thymol seeds (Aimodagam)
2 tsps of Black peppercorns
2 tsps of dry ginger powder
For the porridge
80g of broken rice /podiari
1 litre of water
450ml of coconut milk
5gms of the medicinal mix
Salt to taste
2 tsps of ghee
3-4 shallots sliced
Instructions
Dry roast the ingredients for the medicinal cumin mix and powder it finely in a
blender.
 Store this mix in an airtight container.
 Wash the rice and cook it in a vessel with the required amount of water.
 When half cooked add in the powdered mix.
 Take care to keep stirring the porridge and keep on medium flame.
 Pour in the coconut milk and add salt.
 Cook till the rice is soft.
 Heat ghee in a small pan fry the shallots till caramel in color and pour over the rice
porridge.
 If you feel that the porridge is a bit bitter, add in 2 tsp of jaggery syrup to cut down the
bitterness.
 You can serve this hot /warm with pickle, vegetable stir fries, pappad or even with
fried salted curd chillies.
Adapted from Nimi's Culinary Ventures
Adapted from Nimi's Culinary Ventures
Nimi's Culinary Ventures https://nimisrecipes.com/
So enjoy this monsoon the healthy way!
Here's a glimpse of the media coverage..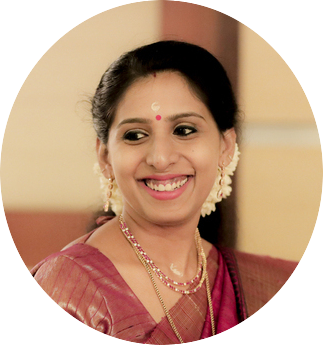 A homemaker who fell head over heels in love with food -an award-winning cookbook author, food blogger, award-winning culinary demonstrator