CHICKEN ULARTHU
I was looking forth to try out this recipe since the day I saw it on a television show.Although the recipe was a bit of time consuming Iwas quite happy with the results.I made this for dinner with Paalappams .Well it goes well with rice too.
1 1/2 kg chicken pieces
1 coconut scraped
1 tsp Black pepper
1 1/2 tsp kashmiri chilli powder
2 tsp coriander powder
1/2 tsp garam masala powder
1/2 tsp yellow turmeric powder
1 tsp Fennel seeds
5 large onions sliced
2 pieces of ginger
10-15 cloves of garlic
Curry leaves
3 tbsp coconut oil
Salt to taste
For marinating
4 tsp kashmiri chilli powder
2 tsp coriander powder
1/2 tsp yellow turmeric powder
a pinch of fenugreek roasted and powdered
1 1/2 tsp Garam masala powder
2 tbsp vinegar
Marinate the chicken pieces with chilli powder,turmeric powder,coriander powder,fenugreek powder,garam masala along with salt and vinegar.Keep it aside for 1/2 an hour.
Coarsely grind the scraped coconut,large onions,ginger,garlic,black turmeric, fennel seeds , red chilli powder,turmeric powder, garam masala all together.
After the time span mix the ground mixture well with the marinated chicken pieces.
In a heavy bottomed wok on flame,pour 3 tbsp oil and add in the chicken mix.Stir and cover the vessel with a vessel keeping it on low flame.
After 5 minutes you can see the water coming out from the chicken.Stir the chicken and close the lid again.Take care that the chicken doesnt stick to the wok.
Repeat the procedure till the chicken is well cooked.If you feel that the chicken is sticking to your pan too much ..drizzle oil lightly on the sides of the wok  and stir well.
Stir till the chicken mix becomes dark brown.It took me an hour and half.
Add the curry leaves and 1 tbsp of coconut oil over the chicken ularthu.
Mix well and remove from flame.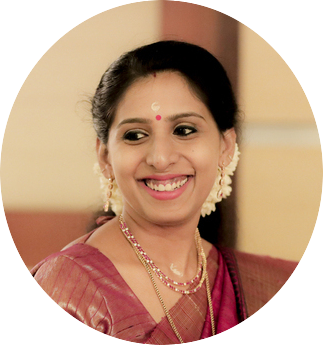 A homemaker who fell head over heels in love with food -an award-winning cookbook author, food blogger, award-winning culinary demonstrator