Fusioned Bliss-Chettinad Chattipathri & Choondu chutney!
It's the 31st of Jan and in Munnar the nights have been pretty much cold..well although we haven't had snow the temperature had dropped down to -3/-2 a few days back. Tomorrow it's my little ones bday and he's super excited..of course how would he not be excited… I too was very much the same. He's been advising me for the past few weeks of how his cake should be …he was more into getting me to make Ben 10 figurines for him. Hmm..but I wasn't able to strain much and did him a cake .When I just got over with the frosting part the icing bag slips and falls on the edge of the cake causing a havoc on the frosting. Hearing me squeak ..he came near me and voiced smiling at me,"Amma ..Don't worry its still a very beautiful cake ..I am so happy you made it for me." I felt my heart sink at that moment…I hugged him and told him I would do the best I could. And I could do justice to an extend to his cake…really happy that I could.Tomorrow it's the first time he has some of his friends for his birthday and so it's a Big day for my boy as he's turning 7!
"Mother's Recipe", the market leader in After accepting their invite in a Indian Pickles has a Product range that now consists of Pickles, Condiments, Blended Spices, Papads, Appalams, Curry Pastes, Curry Powders, Ready to Cook Spice Mixes, Ready to Eat meals (Canned and Retort Packing), Mango Chutneys, Ethnic Chutneys, Canned Vegetables, & Mango Pulp. It was indeed pretty much exciting to have an invite from them to participate in their Mother's Recipe: Innovative Recipe Challenge'!
After accepting their invite in a week or so I have my hamper of their variety goodies at my doorstep.So heres my entry for the challenge.I took up the pack of the ready mix of "Chicken Chettinad " and the pack of "Gujarati Choondo pickle".I wanted to bring in a traditional fusion to the recipe. The pickle was very sweet compared to the normal pickle with a had a wonderful tangy taste. I infused the chettinad chicken with the Chattipathiri a traditional keralan Lasagne and popped up a dip with the pickle.Heres the recipe..
Chettinad Chatti Pathiri & Choondu Chutney
2015-11-30 15:30:53
Nutrition Facts
Amount Per Serving
* Percent Daily Values are based on a 2,000 calorie diet. Your Daily Values may be higher or lower depending on your calorie needs.
Ingredients
Chettinad Chatti Pathiri
2 cups of Wheat flour
2 eggs
½ cup of thick coconut milk
½ tsp of black pepper powder
Salt to taste
For the filling
1 pack of Mothers recipe Chicken Chettinad mix
½ kg chicken (boneless) pieces
Instructions
 Make a batter of flowing consistency with wheat flour adding water and salt.
 With the batter make 6-8 dosas on a hot flat pan and keep them aside.
 Fry the chicken pieces in 2 tbsp of oil till the chicken goes golden in colour.
 Take it off the pan and shred the chicken pieces in a chopper/mixer.
 Now as per the directions on the pack, mix the contents of the pack to 1 ½ cup of the
water without any lumps.
 Add this into a pan, let it simmer, add in the shredded chicken and cover and cook till
the chicken is cooked.
 Evaporate the stock once cooked so that it coats the chicken well and dry fry it in the
pan and keep aside.
 Beat the eggs well with black pepper powder and salt.
 Dip all the dosas in the egg mixture.
 Place a dipped dosa on a plate and on the top lightly coat the coconut milk on thee
dosa with your fingers.
 Spoon in and spread the filling on the dosa and place another dipped dosa on top
smear coconut milk , the spoon the chicken filling and place another dipped dosa
making a sandwich Stack at the least 6 to the max 8 dosas in the stack.
 Heat a wok /a heavy pan with 2 tbsp of oil, place the stacked dosas and cover it with
a lid and cook on medium flame.
 Remove from flame once cooked.
Adapted from Nimi's Culinary Ventures
Adapted from Nimi's Culinary Ventures
Nimi's Culinary Ventures https://nimisrecipes.com/
My kids were very much fascinated by this version of the lasagna .In an hour there was nothing left. ..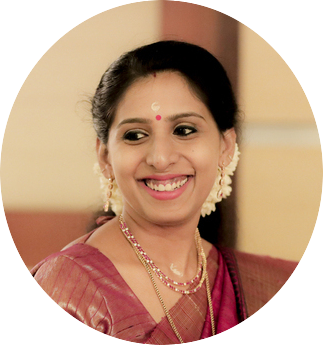 A homemaker who fell head over heels in love with food -an award-winning cookbook author, food blogger, award-winning culinary demonstrator