Fishy ..Fish Samosas
I have been quite busy for the past two weeks with my younger one having one of those nasty viral fever.He's recovering slowly .Its today that I sat back to type out one of my best recipes.This is one of my best and I should say that I have quite a lot fans here for this one.Here in Munnar now the Afternoon rains or should I say the evening rains have started..and theres the beautiful Misty  misty hills…:)Everything so green so bliss…:)
And guys don't forget about the giveaway I have for you guys..only 3 more days to go!


Fish Samosas


For the filling
1/2kg King fish
4 green chillies chopped
1 medium piece ginger chopped
8garlic cloves chopped
3 large onions chopped
1/2 tsp turmeric powder
2tsp black pepper powder
1tsp garam masala powder
2 potatoes pressure cooked and mashed
curry leaves
salt to taste
For the crust
2 cups of Wheat flour
1tbsp ghee
salt to taste
Oil for frying
Make a soft dough with wheat flour,ghee and salt by adequate amount of water.
Pressure cook the king fish with 1/2 tsp turmeric powder and salt.Debone the fish and slightly pulse it in a blender.Heat 3 tbsp of oil in a wok/kadai add in the chopped garlic ,ginger and green chillies and fry.When the color starts changing add in the chopped onions and saute till translucent.Now add the turmeric powder and pepper powder and saute till an aroma comes.Add in the pulsed fish and blend in with the masala.Now mix the mashed potatoes into the fish masala.Sprinkle garam masala powder and garnish with chopped curry leaves.Mix well till well incorporated.If you feel the spice is not enough add a little more of pepper powder and remove from heat.
While the masala is cooling down ,make lemon sized balls of the wheat dough.Heat a frying pan on low flame.Roll out balls into discs and cut them into half.Slightly cook  both sides of the cut dough pieces.Take care not to over cook.Take one piece in hand and fold both ends inwards as shown in the picture.This makes a pouch.You can stick the ends one on the other with plain water.Stuff the pouch with the fish filling and seal the samosa pouch by folding the lower side inwards and sticking the upper end with water.Pinch the corners of the samosa and now they are ready to be fried out.
Heat oil for frying in a wok and drop in the samosas.Fry them till they are golden brown and drain out the oil on a tissue paper.Crispy Fish Samosas are ready to be munched 😛
I'm sending this recipe to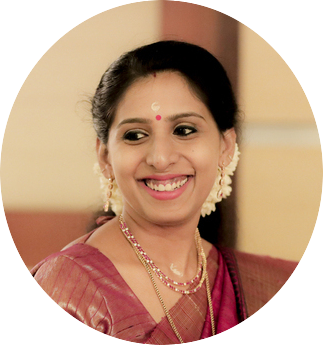 A homemaker who fell head over heels in love with food -an award-winning cookbook author, food blogger, award-winning culinary demonstrator