Kappa Varuthathu /Tapioca Chips with shots of Onam!
"maveli nadu vaneedum kalam,manusharellarum onnupole
amodhathode vasikkum kalam
apathangarkkumottillathanum
kallavum illa chathiyumilla
ellolamilla polivachanam
kallapparayum cherunazhiyum
kallatharangal mattonnumilla
adhikal vyadhikalonnumilla
balamaranangal kelppanilla"
Translation : "When Maveli, our King, ruled the land,
All the people were equal.
And people were joyful and merry;
They were all free from harm.
There was neither anxiety nor sickness,
Deaths of children were unheard of,
There were no lies,
There was neither theft nor deceit,
And no one was false in speech either.
Measures and weights were right;
No one cheated or wronged his neighbor.
When Maveli, our King, ruled the land,
All the people formed one casteless races"
(This song is one song that is sung over Onam)
I'm back after all the Onam celebrations in our family .It was indeed an eventful Onam this  year with our family gettogether.The kids were all having their piece of blast.Onam is a festival celebrated in Kerala with great pomp and food has great role to play with the traditional Sadhya and payasams..I have for all my friends my clicky Onam!;)
The recipe that I have in store for you are for homely crispy Tapioca chips..
Tapioca Chips/Kappa Varuthathu
Tapioca -2
1/4 cup of water
4-5 tsps of salt
1 tsp of Kashmiri chilli powder(optional for making spicy chips)
Oil for frying
Peel off the outer brown layers of the tapioca and thinly slice the tapioca chips on a slicer.In a glass stir in the salt and chilly powder to the 1/4 cup of water to make a salty solution.
Heat oil in a wok.Pop in the sliced tapioca and when slightly brown on the edges, pour 2tbsps of salt solution(make sure to keep  a distance from the oil as it will splutter badly).When the sound subsides a little laddle out the tapioca chips from the wok.Drain it on to paper towels to remove the excess oil.Crrunchy crunch them on with ur evening tea 🙂
The pookalam that we put up this year was a kathakali face and here's my clicky Onam for all my food buddies out there!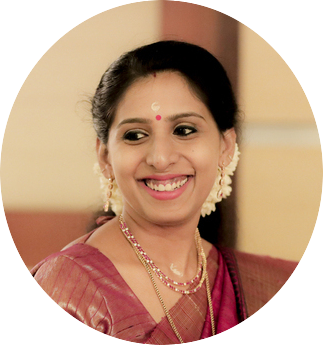 A homemaker who fell head over heels in love with food -an award-winning cookbook author, food blogger, award-winning culinary demonstrator