Kashmiri Dum Aloo for ICC!
Dum Aloo has been one of my favs for a long time and this month when Srivalli and Lataji chose it as this months challenge..I was quite looking forth  to it.Tandoori Naans was my combi with this curry.I have been posting quite late on my blog these days…with my younger one starting on play school…sorry Srivalli for the late post! 🙂
Reading through this post I'm sure your eyes stop at a snap with scenic snap..u c those white storks..i know i haven't quite zoomed them(the view was the back part of my house).The reason for the white storks lurking next to the dum aalo …he he..while I was clickin  the curry ..I couldnt help my self from shooting these white beauties..
Ok..guess I have done enough of blabbering ..now off to the Dum Aloo




Baby potatoes  1 Kg
Cumin seeds, – 1 tsp, roasted gently and ground into a powder
Garam masala – 1 tsp
Kashmiri red chillies – 3-4 nos  roasted and powdered
Fresh yoghurt – 2 1/2 cups (must not be sour)
Ginger powder – 1 tsp
Fennel/aniseed powder – 1 tbsp
Cardamom powder – 1/2 tsp
Mustard oil – 4 tbsps
Cloves roasted and powdered – 6
A pinch of asafetida
Vegetable/ canola/ sunflower cooking oil to deep fry potatoes
Salt to taste
A cup of firm dough made from flour and water
Wash the potatoes well and poke them all over with a fork. Soak them in water for 20 mintues adding a teaspoon of salt to it.
Heat a pan with oil and  deep fry the potatoes till golden in colour. Drain them on a kitchen towel  .
Make a paste of curds/yogurt, chili powder, ginger, cardamom and fennel powders. Then add the potatoes well with this paste and keep it aside.
Heat the mustard oil in another pan, add the clove powder and asafoetida and mix well. 
Then add a half cup of hot water and salt to taste and bring to a boil.
To this mix, add in the potato-yoghurt mix, stir thoroughly and cover.
To do the dum, seal the edges of the pan's cover with the dough to ensure no steam can escape. Put on the stove, cook on a low flame for 10-15 minutes.
Turn off the flame, remove the cover and add the cumin and garam masala powders, and cover again quickly. Leave for 5 minutes.
Serve hot with Chapatis or Naan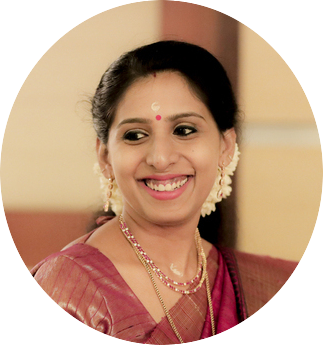 A homemaker who fell head over heels in love with food -an award-winning cookbook author, food blogger, award-winning culinary demonstrator