Suruttai Poli the "sweet rolls " for ICC!
It was after Srivalli's post that I was quite poppin out this wonderful snack.Thanks to Nithya for choosing such a wonderful recipe.This simple yet yummy snack has been a big hit with the kiddos..
Heres the recipe  for this wonder snack..
SURUTTAI POLI
For the filling:
1 cup Roasted gram
1 cup sugar
20cashew nuts cut into small pieces
1tbsp grated coconut
1tsp cardamom powder
1tsp Ghee
Powder the roasted gram and sugar together either coarsely or to a fine powder.Heat ghee in a pan and roast the cashew nuts till golden in colour and add in the coconut and turn off the heat.Mix it with the powdered gram-sugar mix in a bowl.
For making the poli/Appalam:
1 cup all purpose flour
a pinch of salt
oil for frying
In a bowl combine flour with salt and add in water to make a stiff  dough.Let it rest for 30 minutes.Pinch out small balls and roll them out into thin discs.Prick the rolled out discs with a fork so that they dont puff up while frying.Heat oil in a kadai and fry the discs before they turn colour.Be careful not to turn them crispy.On removing the poli from the oil spread the filling on to the poli and roll them tightly.These rolls are soft when they are hot ,but  they become crispy when they are allowed to cool.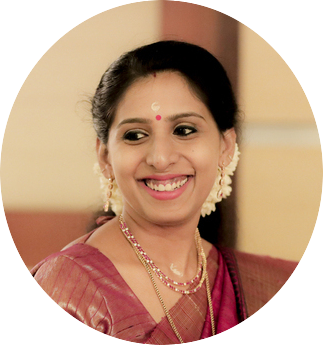 A homemaker who fell head over heels in love with food -an award-winning cookbook author, food blogger, award-winning culinary demonstrator