Ulli Sambar /Onion Sambar
My love for cooking came from my mothers relishing dishes.She pops up a curry within minutes…and I must say it turns out to be a mouth watering one. Ulli Sambar is one of her masterpieces. After marriage I too popped up her recipie….now its one of my husband's favourite dishes.Be it with dosa/idli or a serving of steaming cooked rice,onion sambar is a good combination.Here is the recipie…
ULLI SAMBAR/ONION SAMBAR
1 Cup Red Gram(thuvara parippu)
2 Green chillies
2 tsp of mustard seeds
1 tsp of Urad dal(uzhunnu parippu)
1 cup of small onions
1 tomato sliced
4 dry red chillies
1 tsp turmeric powder
1tsp kashmiri chilli powder
4 tsp of sambar powder
1/2 tsp Asafoetida
curry leaves
 4 cloves of garlic sliced
salt to taste
Wash the redgram in water and put it into a pressure cooker.Now add 2 cups of plain water along with turmeric powder and salt.Close the cooker and place it on flame.After a whistle put out the flame & wait for the steam to release.
In the meantime,in a pan pour 1 1/2 tbsp of coconut oil .When the oil becomes hot,put the mustard seeds,urad dal,dry red chillies,garlic and curry leaves.Then add the small onions in to the oil and saute them till the colour of the onion changes to golden brown colour.
Now add chilli powder , sambar powder and a sliced tomato to the onions and stir .Soak tamarind in a cup of water and pour the seived tamarind water into the sauted onions and bring it to boil.
Now add this onion tamarind gravy into the cooker in which red gram was cooked.Now close the cooker and wait for a whistle putting it on a medium flame.
When the steam is let out after a whistle,keeping the cooker without its lid on flame,add asafoetida powder and if you feel the gravy is quite thick add some more water and after that add a small piece of jaggery (u can also add jaggery in liquid form).
The main idea behind adding jaggery is to balance the tamarind's sourness.
Now the ulli sambar is all ready to serve.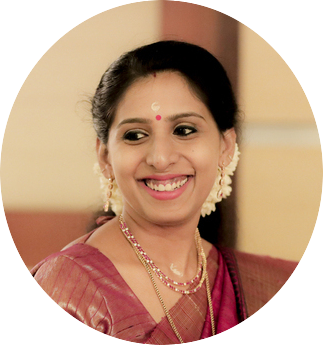 A homemaker who fell head over heels in love with food -an award-winning cookbook author, food blogger, award-winning culinary demonstrator