Love Nutella…??? Get ready for ..Nutella Twists!!!
This weeks post is a special dedication to all those who love Nutella 😀 When I saw that the Nutella twists was the recipe chosen for last months Daring Bakers was thoroughly fascinated by this twisted beauty.Although it took off a few hours of my Saturday ..it was total bliss ..YuMM! 😀 The best part was having my sons ready to help me out in baking .My younger one was more keen in knowing if it was ready .Every five minutes he would be testing my patience ..asking if it was ready .He wanted to help me out in spreading out the Nutella on the layers…and guess what ….he had nutella all over his face.When I stared at him ..he gave me his angelic smile ..showing of his teeth all coated in chocolate..:PKids are kids ..hmm 😀
Nutella Twists
1 can (400 gm) (14 oz) sweetened condensed milk
3 large eggs
1 cup (240 ml) vegetable oil
1 cup (240 ml) warm water
3 teaspoons (15 ml) (12 gm) yeast
7 cups (1 kg) (2.2 lbs) all-purpose (plain) flour, approximately
Pinch of salt
Instead of the eggwash use
2 tablespoons (30 ml) (25 gm) (1 oz) milk powder
3 tablespoons (45 ml) lukewarm water
1teaspoon (5 ml) (5 gm) sugar
1/4 teaspoon (1 gm) instant coffee
For the filling
½ jar (200 gm) (7 oz) of nutella (or similar)
Mix the condensed milk, yeast, oil, water, and eggs in the bowl of your mixer .Add the flour one cup at a time and knead using the kneading attachment or by hand till you get a
soft dough . The dough will be slightly sticky due to the sweetened condensed milk, don't worry once the dough rests it will have a wonderful consistency .Place the dough in a lightly oiled bowl, cover and allow to rest till it doubles in size . Punch down the dough and divide it into 2 parts. Wrap one part in a plastic bag and work with the other. Divide the dough ball into 4 parts.Roll each part into a circle at least 20 cm (8 inch) in diameter.You can use a plate or any other round item as a template if you want your layers to be identical and uniform.Spread the Nutella (or similar filling) on the first layer.9. Place the second layer on top of the first and repeat . Top with the fourth layer, this time only brush it with butter. Using a knife make cuts that divide the dough circles into 8 triangles starting at the center but don't go all the way to the outer edge. I find that using a ruler to mark the dough makes the cuts easier and more uniform. Then divide each triangle into two (2) . That gives you a total of 16 triangles.13. Gently lift the triangles one at a time and twist them.The end result will look like this, repeat for the other dough ball. Brush the dough with egg wash replacement . Allow to rest for 15 minutes during which you would heat your oven to very hot 500°F/240°C/gas mark 9 (rack in the middle) . Bake for 5 minutes on very hot 500°F/240°C/gas mark 9, then lower the temperature to moderately hot 400°F/200°C/gas mark 6 and bake for 15-20 more minutes (ovens do differ greatly, so the time may differ… what you want is to bake it until the under side is golden brown).If you have a broiler (grill) in your oven. Turn on the broiler (grill) for a couple of minutes until the bread is golden on the top.I baked a few nutella filled buns too with my excess dough.
So wishing all a happy baking :)!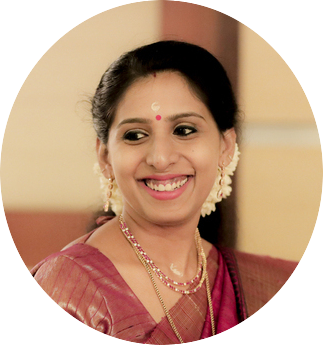 A homemaker who fell head over heels in love with food -an award-winning cookbook author, food blogger, award-winning culinary demonstrator