Cashew Ladoos -memoir of Diwali!
Diwali -the festival of lights was a last week.Celebration of Diwali is all about firecrackers and sweets..this diwali I wanted to type in one of my most  cherished sweets…Cashew Ladoos/Kaju ladoos.This  is a very rich sweet made out of cashews.
CASHEW LADOOS
1/4 cup of water
1 1/4 cups sugar
3tbsp milk
1/2 kg cashew nuts
4 tsps of ghee
5-6 strands of saffron
Slightly roast the cashews in a pan and finely powder them in a mixer.Boil water and sugar in a saucepan  stirring continuously till the sugar dissolves on low flame.When the syrup starts becoming thick, remove from flame and add in the ghee along with the milk and saffron.Stir it and add in the powdered cashew slowly mixing well.Once the powder is well combined with the syrup ,cook the mix on medium flame stirring till the ghee comes out.Let the mix cool down  a little and make small  balls out of the mix.
My little ones were gobbling up these ladoos as I made them.Guess after all cashew is an all time fav for all 😉
"Ram! The light of lights, the self-luminous inner light of the Self is ever shining steadily in the chamber of your heart. Sit quietly. Close your eyes. Withdraw the senses. Fix the mind on this supreme light and enjoy the real Deepavali, by attaining illumination of the soul."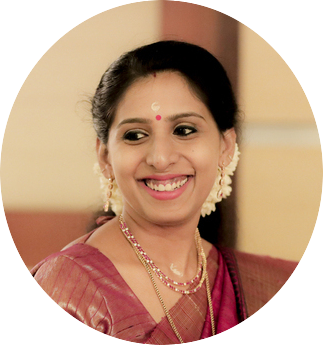 A homemaker who fell head over heels in love with food -an award-winning cookbook author, food blogger, award-winning culinary demonstrator