MANOHARAM -the crispy jaggery balls!


These crispy balls although a bit time consuming are worth trying out because they are sweet ,crispy and worth drooling.This blogpost of mine goes to the ICC.
1cup jaggery powdered
Wash and soak rice for 15 minutes.Drain and let the rice dry for 30-40 minutes.Powder the rice finely.

Slightly heat and powder the moong dal into a fine powder.

Measure 2 cups of rice flour with 1 cup of moong dal flour and mix in  a bowl.Rub in the ghee so that it gets incorporated well.Add water and knead the flours to make a smooth dough.

Heat oil in a kadai.

Fill the idiyappam presser or potato ricer to press out the dough into the oil.In the idiyappam presser you can use the disc with 3 holes.

Fry out the murukku and place them on absorbent tissues to soak out the excess oil.

When cooled,break the murukkus into tiny bits.

In a pan pour some water and add the powdered jaggery.Bring it to boil so that the jaggery has been dissolved.Pass the jaggery syrup through a strainer to seperate the scum.

Bring this syrup again to boil till the syrurp thickens.Drop a few drops of the syrup into a cup of water and if the syrup can be easily rolled in to a ball,the consistency is correct.

Remove syrup from fire and add the bits of murukku briskly stirring to coat the jaggery evenly on the murukku bits,

When the heat is manageable grease your palms and roll the mix into small balls.
Manoharam is ready to be served!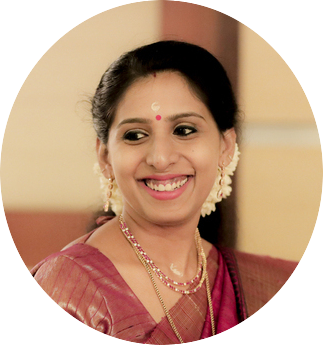 A homemaker who fell head over heels in love with food -an award-winning cookbook author, food blogger, award-winning culinary demonstrator