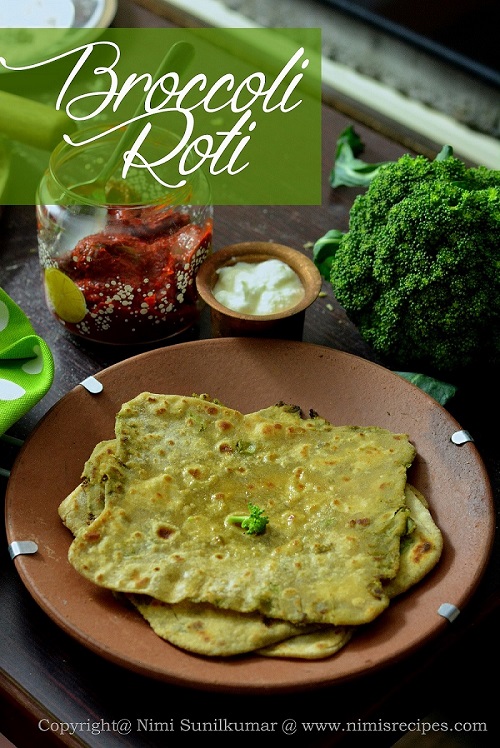 The best part of staying in Munnar is to get hold of the local fresh veggies . Broccoli is one such veggie that I love to cook with .Soups and salads were my first preferences when I started to cook with them .But it wasnt a big hit with my kids as they rarely fancied them on their plates . Being a mother my first priority has always been to find out ways to include them in the daily diet .The fun part of cooking is to keep innovating recipes .That's one way that I came up with the Broccoli Rotis which is now a fave with my young one ."Amma , you know these green rotis are much better if you add extra ghee to them …well thats how I want them !" my younger one chuckles and adds on, "But u dont have to add more ghee to my brothers rotis…." with a naughty smile. Hmm ….that was short ignite to the reason for a new fight that started off in a matter of minutes..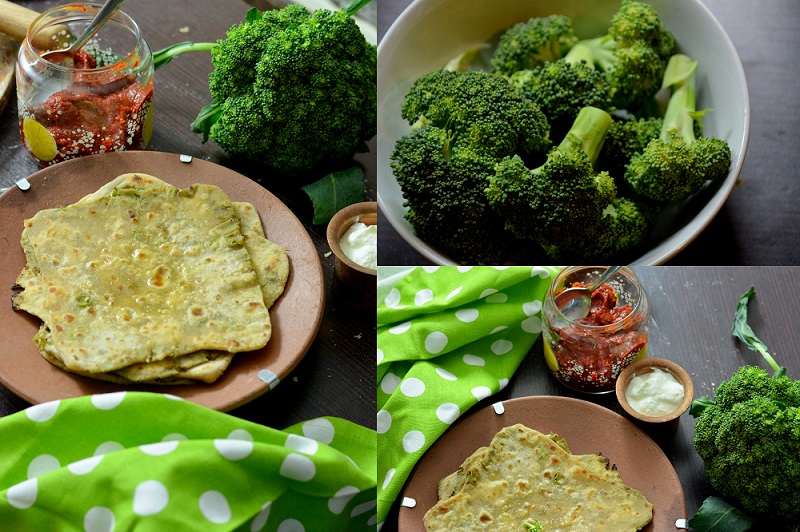 I have started posting video recipes on my youtube channel..If you would like to have a look at the video tutorial .You can subscribe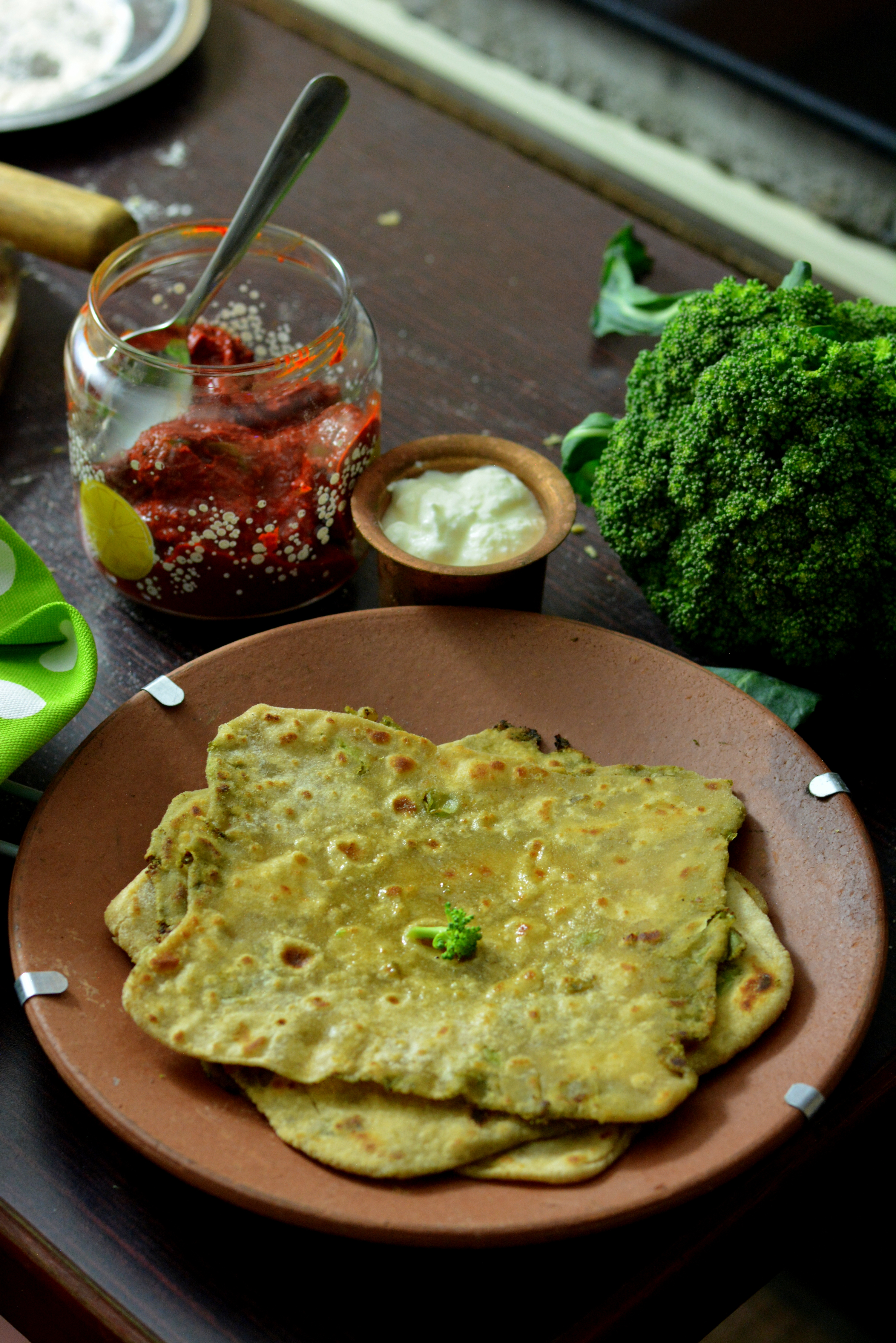 Broccoli Rotis
2017-05-13 21:11:00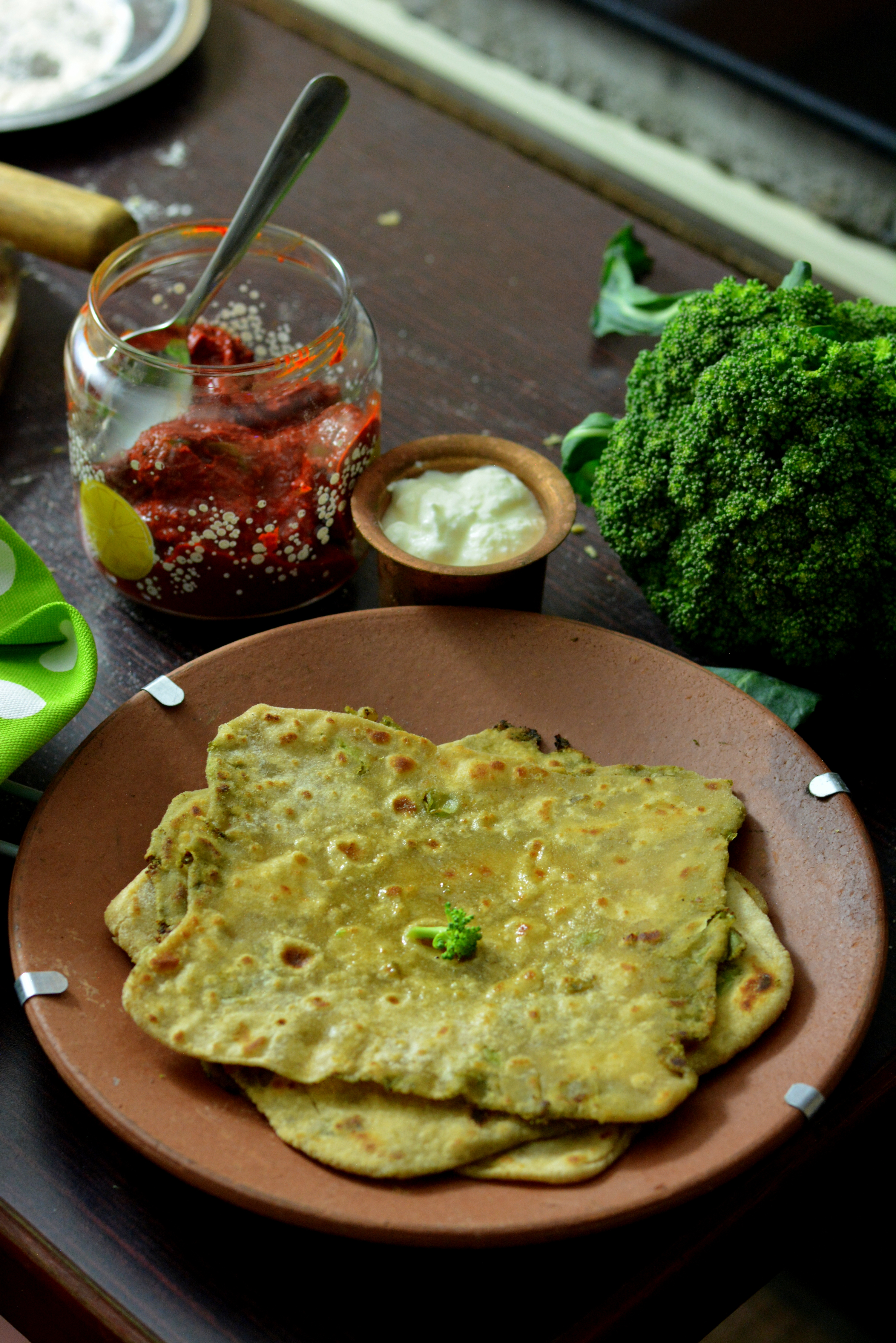 Nutrition Facts
Amount Per Serving
* Percent Daily Values are based on a 2,000 calorie diet. Your Daily Values may be higher or lower depending on your calorie needs.
Ingredients
For the Filling
2 tbsp of oil
1 onion finely chopped
3-4 green chillies chopped
7-8 Broccoli florets
Salt to taste
1/2 tsp of dry mango powder
1 tsp f garam masala
For the dough
2 cups of wheat flour
1 tsp of ghee
Salt to taste
water as required to knead
Ghee to panfry the rotis
Instructions
Mince the broccoli in a blender or food processor .
Heat oil in a pan , saute onions and add in green chillies .
Once the onions are translucent add the minced broccoli .Stir add water and salt .Cover & cook till the the water has totally evaporated .Keep aside .
In a bowl mix wheat flour , salt and ghee .Pour in the required amount of water and knead the mix into a dough .Leave it to rest for about 10 minutes . Now pinch and roll balls out of the dough , flatten them , dust them with wheat flour .Dusting with flour stops it from sticking a lot to the rolling pin .
Roll them thin .spoon some of the broccoli mix and fold from all the four sides into a square.Dust again with wheat flour and roll them out thin .
Pan fry the rotis on both sides on a flat pan with ghee.
Serve rotis with pickles, raita or curries.
Nimi's Culinary Ventures http://nimisrecipes.com/
Being born and brought up in the Middle East has really influenced my taste buds. Being born there the most common question my friends would ask are, "Do u speak Arabic?" and I start grinning trying to answer them ..as I know how to read and write but have totally forgotten all the meanings..so literally don't know to speak..as I have lost touch with it 😛
My younger son had his Graduation day at school…he's been graduated to his first grade and so has been bye bye to the kindergarten years. Dressed up in their pink academic dress and mortar board it was a pleasant sight to see all the kiddies singing with lighted candles and scrolls in hand..wish to be their age ….
The recipe that I will be posting today is of hummus. This dip is great with carrot sticks as well as pita breads.
Hummus
2015-12-09 09:25:55
Nutrition Facts
Amount Per Serving
* Percent Daily Values are based on a 2,000 calorie diet. Your Daily Values may be higher or lower depending on your calorie needs.
Ingredients
1 cup of dried chickpeas (soaked overnight & pressure cooked)
3 cloves of garlic
½ cup of tahini paste
2-3 tbsp of olive oil
1/8 cup of lime juice (add 1tbsp more if u feel flavour is less)
Salt to taste
Instructions
Peel the skin of the cooked chickpeas.
 Grind the chickpeas, garlic, limejuice and salt to a smooth paste.
 Add water if it becomes too thick.
 Mix in the tahini paste.
 Serve it on to a plate and garnish with paprika powder and olive oil.
Adapted from Nimi's Culinary Ventures
Adapted from Nimi's Culinary Ventures
Nimi's Culinary Ventures http://nimisrecipes.com/
This weeks post is a special dedication to all those who love Nutella 😀 When I saw that the Nutella twists was the recipe chosen for last months Daring Bakers was thoroughly fascinated by this twisted beauty.Although it took off a few hours of my Saturday ..it was total bliss ..YuMM! 😀 The best part was having my sons ready to help me out in baking .My younger one was more keen in knowing if it was ready .Every five minutes he would be testing my patience ..asking if it was ready .He wanted to help me out in spreading out the Nutella on the layers…and guess what ….he had nutella all over his face.When I stared at him ..he gave me his angelic smile ..showing of his teeth all coated in chocolate..:PKids are kids ..hmm 😀
Nutella Twists
1 can (400 gm) (14 oz) sweetened condensed milk
3 large eggs
1 cup (240 ml) vegetable oil
1 cup (240 ml) warm water
3 teaspoons (15 ml) (12 gm) yeast
7 cups (1 kg) (2.2 lbs) all-purpose (plain) flour, approximately
Pinch of salt
Instead of the eggwash use
2 tablespoons (30 ml) (25 gm) (1 oz) milk powder
3 tablespoons (45 ml) lukewarm water
1teaspoon (5 ml) (5 gm) sugar
1/4 teaspoon (1 gm) instant coffee
For the filling
½ jar (200 gm) (7 oz) of nutella (or similar)
Mix the condensed milk, yeast, oil, water, and eggs in the bowl of your mixer .Add the flour one cup at a time and knead using the kneading attachment or by hand till you get a
soft dough . The dough will be slightly sticky due to the sweetened condensed milk, don't worry once the dough rests it will have a wonderful consistency .Place the dough in a lightly oiled bowl, cover and allow to rest till it doubles in size . Punch down the dough and divide it into 2 parts. Wrap one part in a plastic bag and work with the other. Divide the dough ball into 4 parts.Roll each part into a circle at least 20 cm (8 inch) in diameter.You can use a plate or any other round item as a template if you want your layers to be identical and uniform.Spread the Nutella (or similar filling) on the first layer.9. Place the second layer on top of the first and repeat . Top with the fourth layer, this time only brush it with butter. Using a knife make cuts that divide the dough circles into 8 triangles starting at the center but don't go all the way to the outer edge. I find that using a ruler to mark the dough makes the cuts easier and more uniform. Then divide each triangle into two (2) . That gives you a total of 16 triangles.13. Gently lift the triangles one at a time and twist them.The end result will look like this, repeat for the other dough ball. Brush the dough with egg wash replacement . Allow to rest for 15 minutes during which you would heat your oven to very hot 500°F/240°C/gas mark 9 (rack in the middle) . Bake for 5 minutes on very hot 500°F/240°C/gas mark 9, then lower the temperature to moderately hot 400°F/200°C/gas mark 6 and bake for 15-20 more minutes (ovens do differ greatly, so the time may differ… what you want is to bake it until the under side is golden brown).If you have a broiler (grill) in your oven. Turn on the broiler (grill) for a couple of minutes until the bread is golden on the top.I baked a few nutella filled buns too with my excess dough.
So wishing all a happy baking :)!
Being shortlisted for the Gourmand World Cookbook awards came in as a big bundle of surprise for me to shortlisted among the 7 finalists from 187 countries for the title "The Best Local Cuisine in India "..:) I never knew that more surprises were yet to come ..thats when I get a tweet from reknown celebrity Indian chef Sanjeev Kapoor..congratulating me on being shortlisted…..phew..the night I saw that tweet ..hehe..left me sleepless..:P
Puliyodharai reminds me of tamarind ..and tamarind reminds me ..licking licking..;) makes my mouth water.I remember how I used to collect tamarind during my vacations in Kerala..depod nd lick o lick ..:D Wish to be a kid once more..hmm..it is funny though..in that age  all I had in mind was just to be a  grown up ….:P
The courtesy of the Puliyodharai recipe that I am posting here today goes to the book "Festival Samayal -an offering to the Gods " by Viji Varadarajan. Her cookbooks are explicit eyeopeners to the Tamil Brahmin cuisine. Her book  Vegetarian delicacies of South India has also been shortlisted for the Gourmand World Cookbook Awards..kudos Viji Mami ! Although we have been chatting over phone ..really excited to meet this wonder lady in person 🙂
Puliyodharai Rice
2 cups of Rice
1/2 cup of thick Tamarind pulp
1/4tsp of Turmeric powder
1/2 tsp of Asafoetida powder
1/2 cup of skinned roasted peanuts(optional)
1/2 cup of sesame oil
2 tsps of salt
For seasoning:
1/4 tsp of Mustard seeds
1/2 tsp of husked split black gram
1/2 tsp of Bengal gram
5 dried chillies , halved
Curry leaves
Cook the rice in 5 cups of water. Each grainn of the cooked rice should be seperate. Set aside to cool . Heat a tablespoon of oil, add the mustard  to pop.Add the dals , stir for ten seconds till golden .Add the chillies and fry till it turns a bright red.Add the peanuts and saute for 20 seconds. Add tamarind pulp , a cup of water , turmeric powder, asafoetida and salt.Cover and simmer over a medium flame for 5-7 minutes.Open the lid and cook until it becomes a thick sauce .Add the remaining oil and take it off the stove.This is called pulikaachal.Mix the sauce and rice well without mashing it.Wet , crush the curry leaves add and stir for 5 seconds.Keep the tamarind rice for a couple of hours before serving.Add1/2 teaspoon of jaggery to balance the hot and tangy flavour of the tamarind rice.A dash of fresh lemon juice will make the dish more exotic.
So Happy tangy tamarind cooking ……:) !
var _gaq = _gaq || []; _gaq.push(['_setAccount', 'UA-35896180-1']); _gaq.push(['_trackPageview']);
(function() { var ga = document.createElement('script'); ga.type = 'text/javascript'; ga.async = true; ga.src = ('https:' == document.location.protocol ? 'https://ssl' : 'http://www') + '.google-analytics.com/ga.js'; var s = document.getElementsByTagName('script')[0]; s.parentNode.insertBefore(ga, s); })();
There's been quite a lot of happenings in my life for the past months..that I am not able to update my blog regularly.I have joined at my son's school as a Culinary teacher for the High Schoolers .Its been quite fun being with my kids even at school 😉 In addition to my school work, my  Lip Smacking Classes  on Kerala Cooking  are in full progress on weekdays.
A perfectly new environment..its been quite challenging to bring my horses on the right road.. trying to bring a balance at home and work.There was a Salad making competition at school which was between the 11th and 12th grades.The ideas that the kids came up was indeed a feast to the eyes.I am planning to post some of their recipes in my next post.So wait and watch out.:)
Today's post is dedicated to my wonderful Culinary students of HRS.This was one of their nutty and spicy treats!
Peanut & Potato Pancakes with Coriander Chutney 
For the Pancakes
4tbsp of rice flour
2 small potatoes peeled and grated
1 big onion chopped
2 tbsps of roasted peanuts
salt to taste
Combine  all the ingredients with  about 3-4 tbsp of water in a bowl and mix well to make a dough.Divide into equal portioned balls.Heat a tawa.Smear oil on ur palms ,flatten the balls into thin circles and  cook on both sides on the tawa by drizzling  little oil .
For the Coriander Chutney
2 cups of coriander leaves chopped
1 cup grated coconut
4 green chillies
2-3 shallots
juice of 1 lemon
salt to taste
Combine all ingredients except for the lemon juice and grind into a smooth paste in a blender using very little water.Mix in the lemon juice,refrigerate and use with the pancakes.
The Monsoons have started in Munnar..enjoy the rain with hot pancakes and chutney!

The rains have started pouring out here..June and July being the monsoon months in Munnar. I really hate goin out when there are showers in Munnar. Some hot chocolate for the kids and tea for us are the best opted drinks with snacks..
The recipe that I have shared here are the ones that comes out from my Mom's diary of recipes.This spicy  Potato snack is one of my Monsoon favs!
Mini Aloo Bondas 


For the filling
4-5 potatoes pressure cooked and mashed
5-6 green chillies finely chopped
a small piece of ginger finely chopped
4 cloves of garlic finely chopped
3 large onions chopped
cilantro chopped
1 tsp mustard seeds
1/4 tsp red chilli powder
1 tsp garam masala
1/2 tsp turmeric powder
a pinch of asafoetida powder
1 tsp lemon juice
salt to taste
For the batter
1 1/2 cup of gram flour
2 tbsp of rice flour
1 tsp red chilli powder
1/2 tsp baking soda
Water
salt to taste
Oil for frying
Heat 1tbsp oil in a pan.Pop the mustard seeds and add the asafoetida powder and stir.Add in the chopped large onions,green chillies,ginger and garlic and saute till the onions turn translucent.Add in the turmeric powder,chilli powder and garam masala .Stir and add in the mashed potatoes.Mix well with the required amount of salt and chopped cilantro till well incorporated and keep it aside.Add in the lemon juice and mix.
While the filling cools, mix all the ingridients required for the batter in a bowl.Slowly pour in water to make a batter of thick consistency .Make lemon sized balls of the filling.Dip the balls in the batter and deep fry them in oil.
Your Potato balls are ready to be served with ketchup.! 🙂
Its quite some time since I  put up my posts frequently…its been quite a busy week for me with my kids.My younger one has got his attack of flu as it has started raining here.As every kid likes to play in the rain..hes up with his own pranks…:D
The recipe that I'm posting today is Semolina Onion Vada with Bengal gram chutney.I love hot n spicy fried  items when its cold and raining with a hot cup of tea!:P
Heres the recipe
Semolina Onion Vada
3 cups of roasted semolina
3/4 cup all purpose flour
1/2 cup rice flour
5 green chillies chopped
a small piece of ginger chopped
1/2 cup of small onions/shallots chopped
1/2 cup of coriander leaves chopped
1 tsp baking soda
1 cup yogurt
1 cup water
salt to taste
oil for frying
Mix all the ingredients together so that it becomes a sticky dough.Make small balls of the mix ,flatten them to make thin discs with the palm of your hands(make sure to wet ur palms) and fry them out in hot oil till golden brown in colour.
Bengal gram Chutney
1 cup grated coconut
1/2 cup Bengal gram
3-4 dry red chillies
2 small onions
a small ball of tamarind
salt to taste
Grind all the above ingredients in a blender with required amount of water .
For seasoning
1/2 tsp mustard seeds
2 dry red chillies (broken)
5-6 curry leaves
2 tsp coconut oil
Heat a oil in a small pan and pop the mustard seeds.Add the dry red chillies and curry leaves to it and pour it over the chutney.
Serve the hot vadas with chutney!
Enjoy ur monsoon!:)
Aloo Mutter is a dish that my hus always craves for rotis/chapathis..This lovely combi of potatoes and peas really kicks up your taste buds..
Heres the recipe
ALOO MUTTER
3 large potatoes (cut into quarters)
1 1/2 cup green peas
2 large onions chopped
1 and 1/2 tsp of Ginger garlic paste
a pinch of turmeric
1 tsp chilli powder
2 tsp coriander powder
1/4 tsp cumin powder
1 large tomato
1/4 cup curd
1/4 tsp garam masala
Fry and seperate the potatoes and peas in oil.In a heavy bottomed pan  fry the onions and saute in the ginger garlic paste and all the spice powders (chilli ,coriander,cumin and turmeric except garam masala).Add  blanched tomatoes and simmer till the spices are cooked.Add in the potatoes and peas let it cook covered.Pour in about 1/2 cup of water if the gravy is very thick,When the potatoes and peas are well cooked,add in the well beaten curd and simmer till the gravy becomes thick.Garnish with coriander leaves.
Paneer curries are quite a fav with my kids.Last day when I made Paneer Butter masala for them,Surjeeth was planning a photo shoot with the curry..while my little one was all tears thinkin that my camera was going to  gobble up the curry 😀
Well here's the recipe
2oog of Paneer
4 big tomatoes
3 tsp ginger garlic paste
2 large onions chopped
25gms of cashewnut paste
3 green chillies (julian cut)
2tsp Kashmiri chilli powder
1tsp garam masala
4tbsp butter
1/2 tsp of Kasuri methi powder/dry fenugreek powdered
1/2 cup cream
2 tbsp curd
Salt as needed
Boil the tomatoes with water and on cooling peel the skin of the tomatoes.
In a mixer grind the tomatoes into fine paste.
In a heavy bottomed pan pour butter and slightly fry and seperate  the paneer cubes till golden.
In the remaining butter saute the onions till brown.Now add in the ginger garlic paste and cashewnut paste and saute for a minute.
When well sauted add in the tomato paste.When it starts simmering add in the chilli powder,garam masala and kasuri methi powder.
When the flavour comes out and simmers well  , add in the fresh cream.
Switch off the flame and granish with freshly cut coriander leaves and butter.