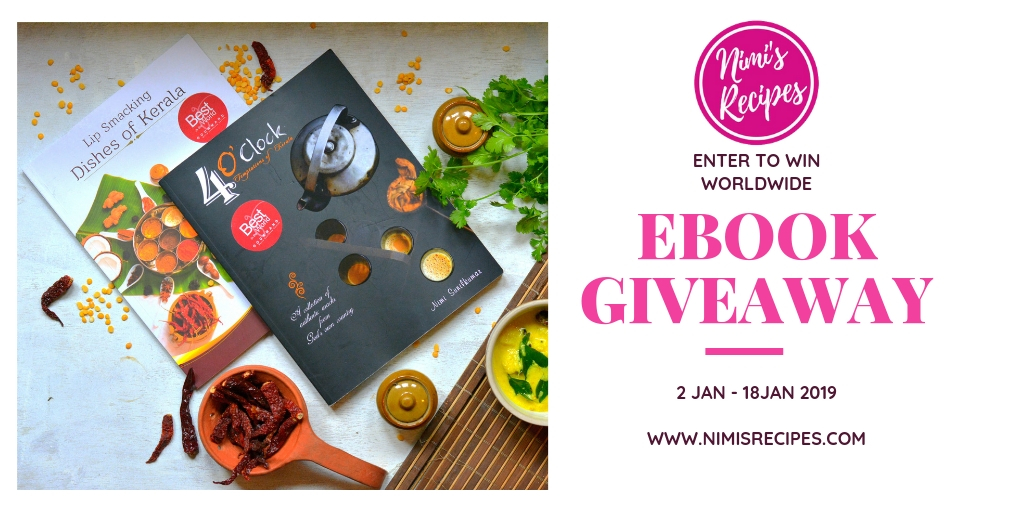 This festive season with the start of the new year I am launching the ebooks of my award-winning cookbooks "Lip Smacking Dishes of Kerala" (3rd Best Local Cuisine book in the world for Gourmand awards 2013-14) and "4 o' clock temptations of Kerala" (Best Indian cookbook in the world for Gourmand Awards 2015-16).
I will be giving away 10 ebooks ..make sure to grab your copies by entering the giveaway. If you would like to celebrate the regional flavor of Indian cooking through Kerala cuisine or would like to gift your friend or loved one…
Click here to enter the giveaway
The results will be announced on the 2oth of January 2019
If you would like to get the paperback copies of the books, you can order them here.
Wishing you all the very best!!
Let's welcome the year which is fresh
Let's welcome the year which is new,
Let's cherish each moment it beholds,
Let's celebrate this blissful new year.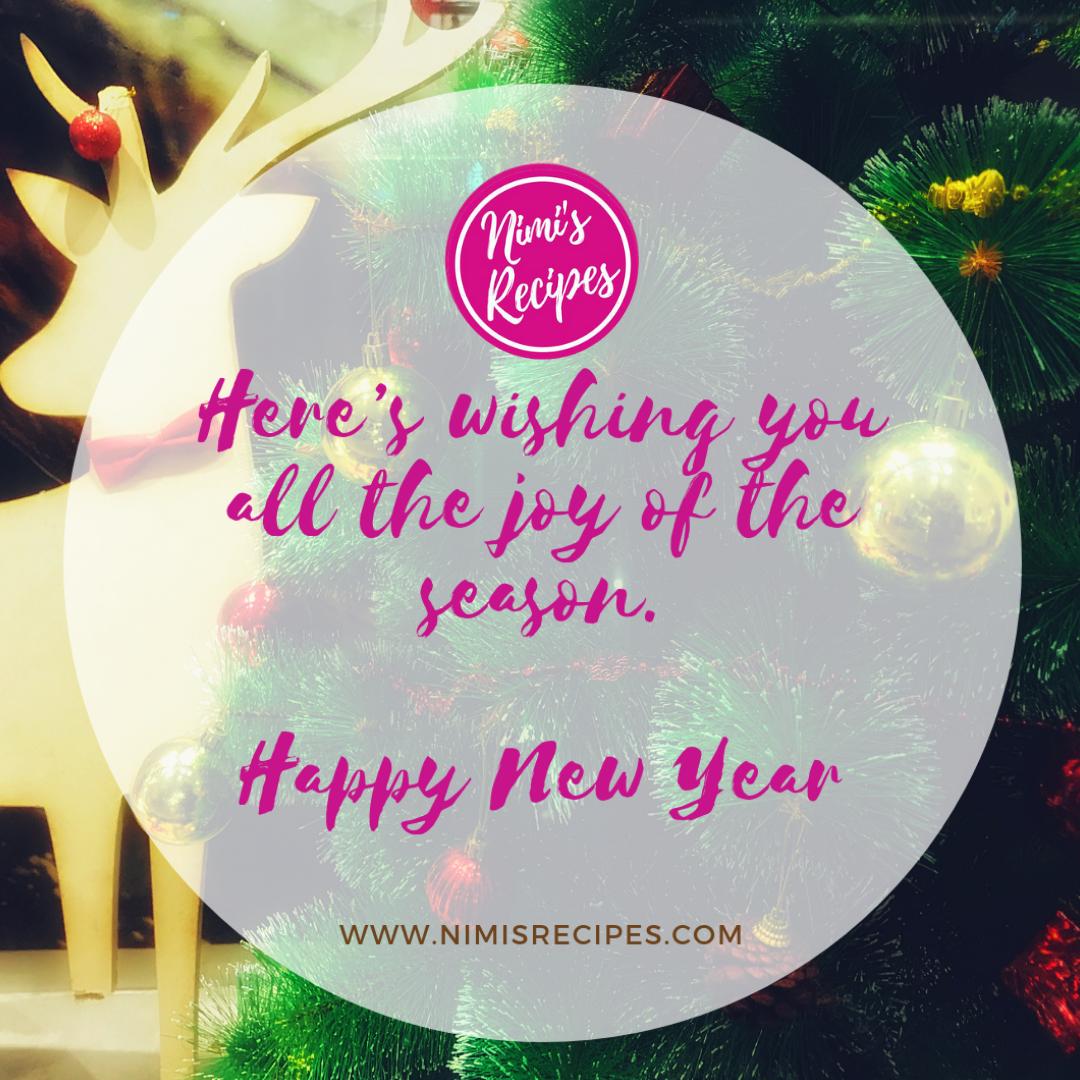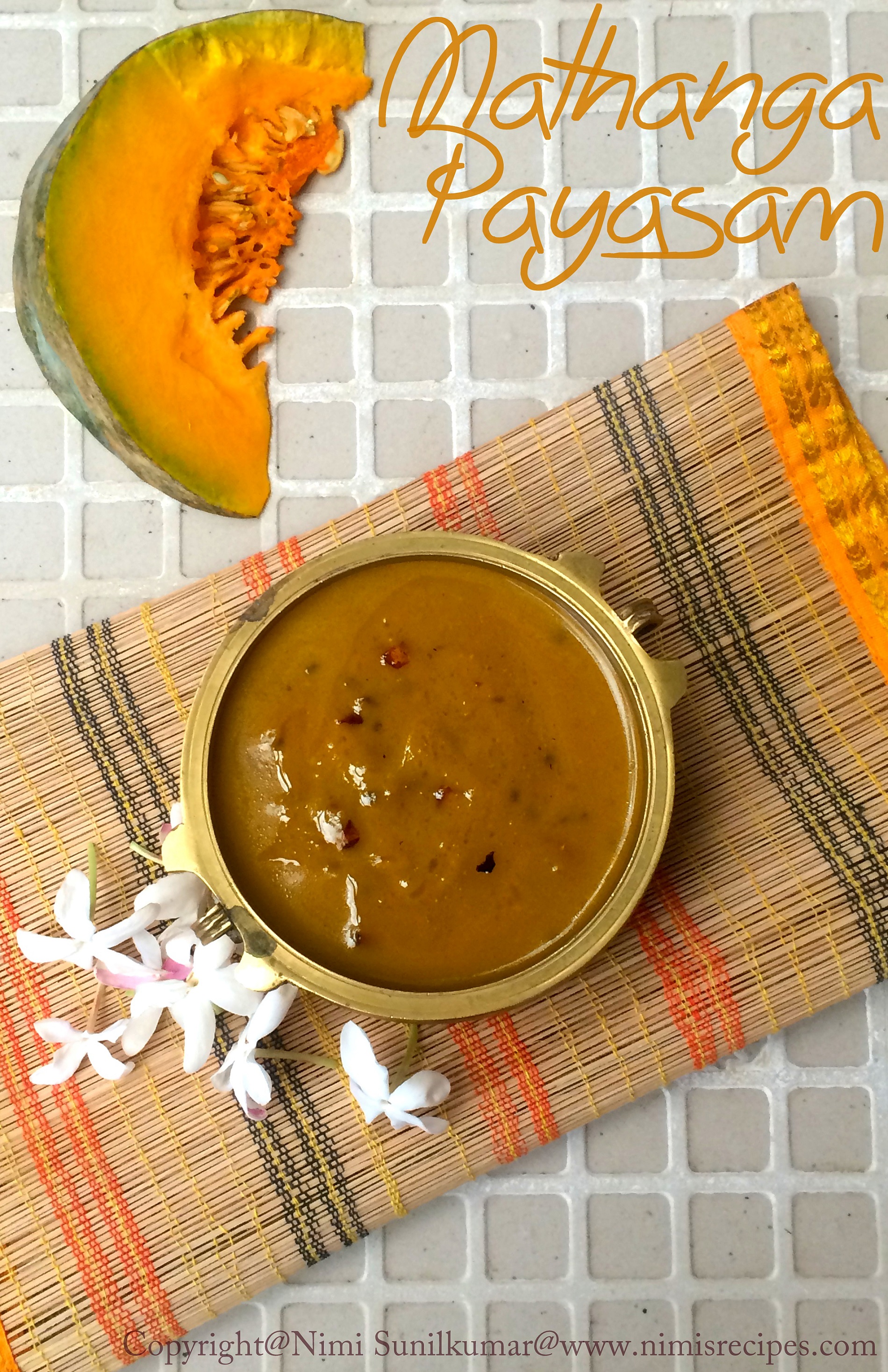 Onam holidays have started a break of ten days Onam being the state festival of our Gods own country titled Kerala! All over the state of Kerala, festive rituals, traditional cuisine, dance and music mark this harvest festival. The ten day Onam festival is celebrated floral carpets, traditional dance forms , onam sadhya-the feast on banana leaf, boat race….At school we had the teachers day and onam celebrations on adjacent days.The Thiruvonam day..the tenth day and the most sacred day of the celebrations…..its great fun all members in the family get together ,friends and relatives all ..the onamsadhya is prepared and served on the banana leaf with different curries , rice and desserts. This Onam I wanted to post the recipe of a special payasam .Payasam is basically the dessert that's served after the feast. Today's post is Mathanga Payasam /Pumpkin Payasam..
Mathanga payasam / Pumpkin Payasam
2015-11-29 23:01:08
Nutrition Facts
Amount Per Serving
* Percent Daily Values are based on a 2,000 calorie diet. Your Daily Values may be higher or lower depending on your calorie needs.
Ingredients
2 cups of pumpkin cubes (de skinned &deseeded)
3/4 cup of jaggery syrup
2 cups of thin coconut milk
1 cup of thick coconut milk
2 cardamoms crushed
4 tbsp of sago cooked in water
2 tsp of ghee
For Garnish
2 tsp of coconut pieces
2 tsp of cashews and raisins
Ghee for frying
Instructions
 Cook the pumpkins in water, sieve and blend into a smooth paste.
 Heat ghee in a heavy bottomed vessel and fry the pumpkin paste for about 5-10
minutes on medium flame.
 Mix in the jaggery syrup and keep on stirring.
 Let the jaggery syrup blend well in to the mix and then pour the thin coconut milk and
continue stirring.
 Add in the cooked sago balls and cardamom.
 When the milk starts thickening, pour in the thick milk and when it is on the verge of
simmering, turn off the flame.
 Fry out the coconut pieces in ghee along with the raisins and cashews and garnish
the pudding.
Adapted from Nimi's Culinary Ventures
Adapted from Nimi's Culinary Ventures
Nimi's Culinary Ventures http://nimisrecipes.com/
Serve it warm or cold and enjoy this onam !
It was while writing this post , I was reminded of a website I stumbled on to while browsing on apps that help you order food online in India.It has got everything that a foodie would want to devour from mughlai cuisine to south indian to pizzas..With a userfriendly interface and a catchy name "Foodpanda"
They cover most cities in India and when you have the app on your phone its pretty much more easier. Theres also city based pages like for Bangalore , Mumbai and Delhi .Well I have my foodpanda app on my phone..planning to use it once am in the listed cities. 🙂 Hope you all would find it equally handy 🙂
Being up all in festive mood,Heres the writeup on me that came up in Grihasobha Malayalam magazine (Delhi press publication)this September
So signing off for now …Wishing all a happy and prosperous onam!
How should I start off? I am head over heels in happiness that my hard work is paying out as fruits..Ok so I am back in Munnar after a week's spree tour and happenings in Beijing. The best news that I have to share is that my book has bagged the third place as for the "Best Local Cuisine book in the world."Gourmand World Cookbook Awards also known as the Oscars of Gastronomy was founded by Edouard Cointreau .To be a part of it was really an awesome experience. Getting to meet the top personalities in person, learning and sharing insights on each other's books….. It was an experience that I could have not even dreamt of.
I had travelled with my family to Shanghai on the 16th of May and then on the 19th of May to Beijing and our stay was at the Daxing Hotel where the Beijing International Cookbook fair was held. I was very much impressed by the hospitality of the Gourmand staff and the hard work that they had put into the arrangements. As it calls for celebration I thought of sharing a sweet recipe to with my sweet news..so heres the recipe for Badam Halwa…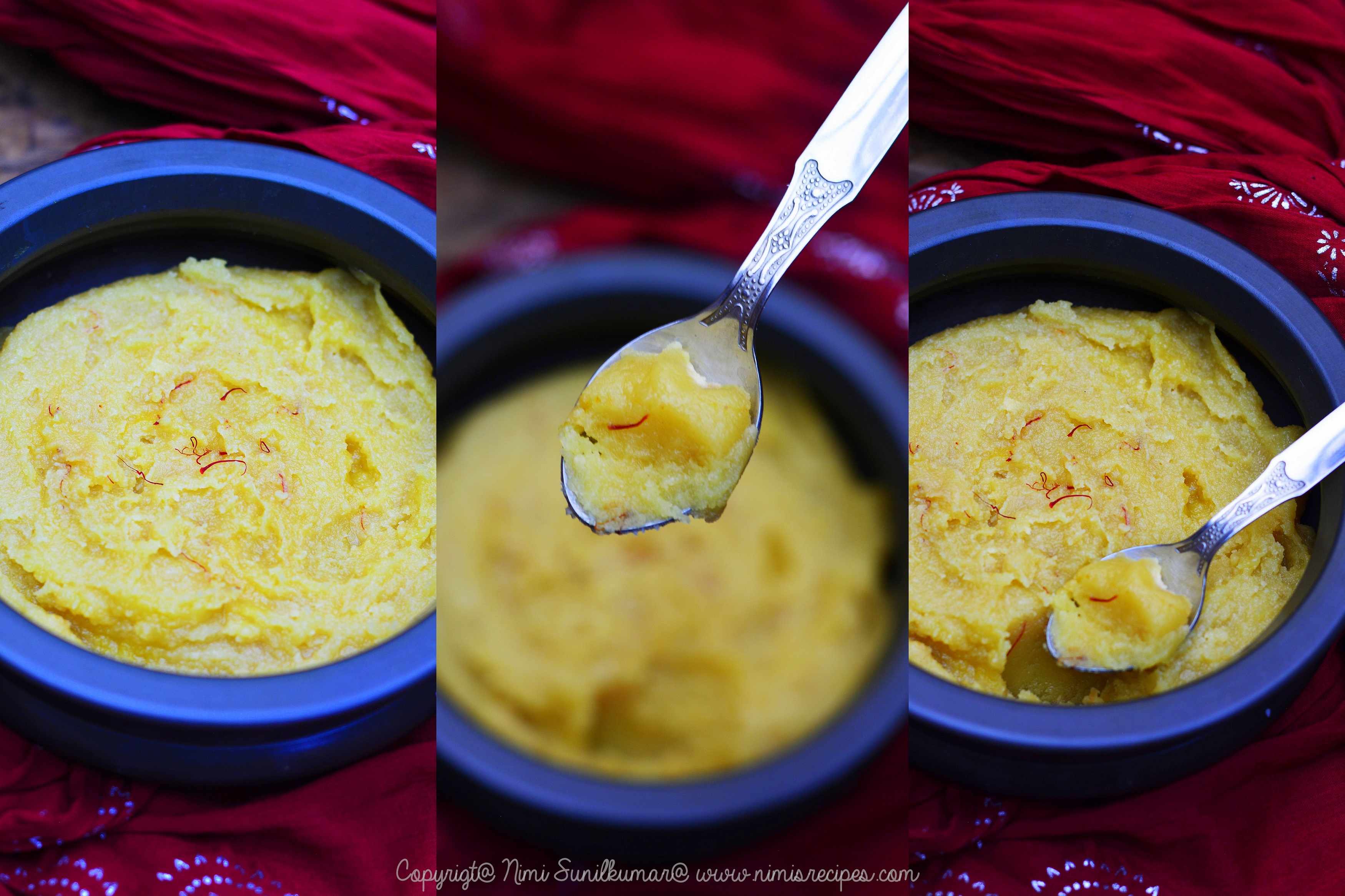 Badam Halwa
2015-12-09 06:53:53
Nutrition Facts
Amount Per Serving
* Percent Daily Values are based on a 2,000 calorie diet. Your Daily Values may be higher or lower depending on your calorie needs.
Ingredients
1cup of Almonds (soaked in water and blanched)
½ cup of milk
1cup of sugar
½ cup of ghee
1/2 cup of water
8-10 strands of saffron soaked in 1 tsp of milk
Instructions
Grind the almonds with milk to a smooth paste.
 In a saucepan boil water and mix in the sugar till it dissolves and keep aside.
 Heat ghee till it melts and add in the sugar syrup on low flame and mix in the almond
paste without any lumps.
 Add in the saffron and keep stirring on low flame till the almond paste becomes thick
and flaky.
 Turn off the flame and mix in a teaspoon of ghee.
 Devour on your badam halwa!
Adapted from Nimi's Culinar Ventures
Adapted from Nimi's Culinar Ventures
Nimi's Culinary Ventures http://nimisrecipes.com/