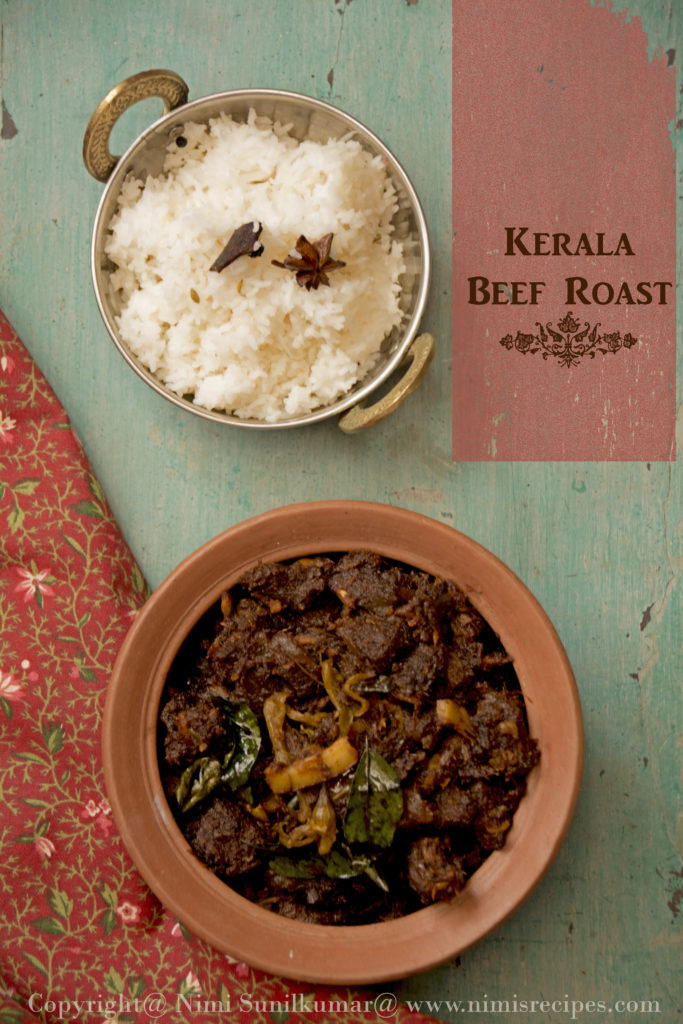 Holidays have started off but the break is just too small this year.In 1o days time, the school reopens and I am back to square one .Have plans to visit my parents home before the whole break is over. On the occasion of Easter, the recipe that I am very keen on sharing is one that many have requested me to.Kerala's Beef Roast recipe is one of the most famed recipes. Beef has a prominent place in the Kerala cuisine among the meat lovers. The buffalo meat is meant to be much tougher than other meat, so it's mostly pressure cooked as it takes more time to tenderize.This is equally good with the flaky Kerala porottas as well as rice.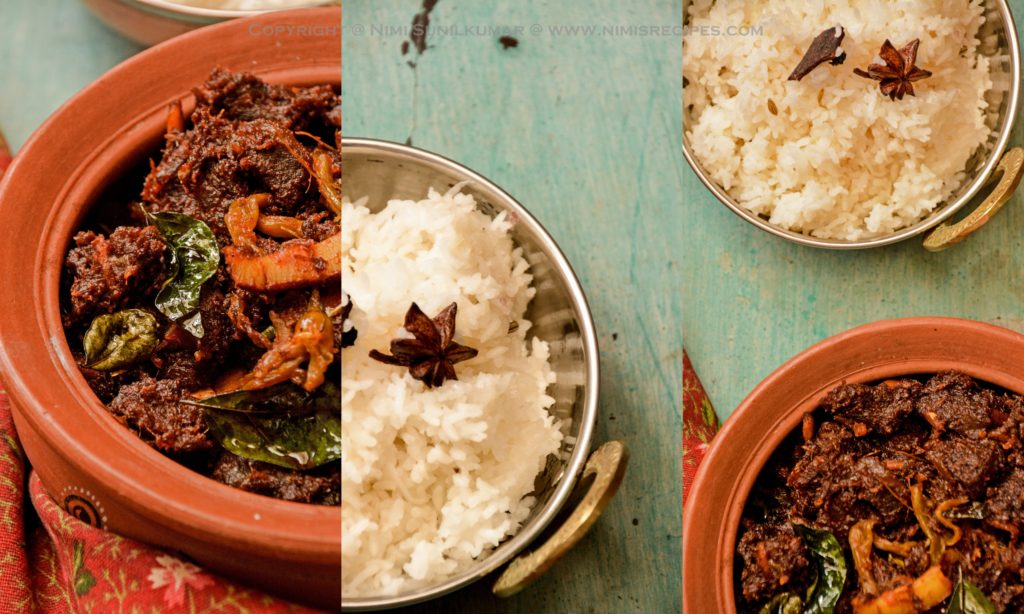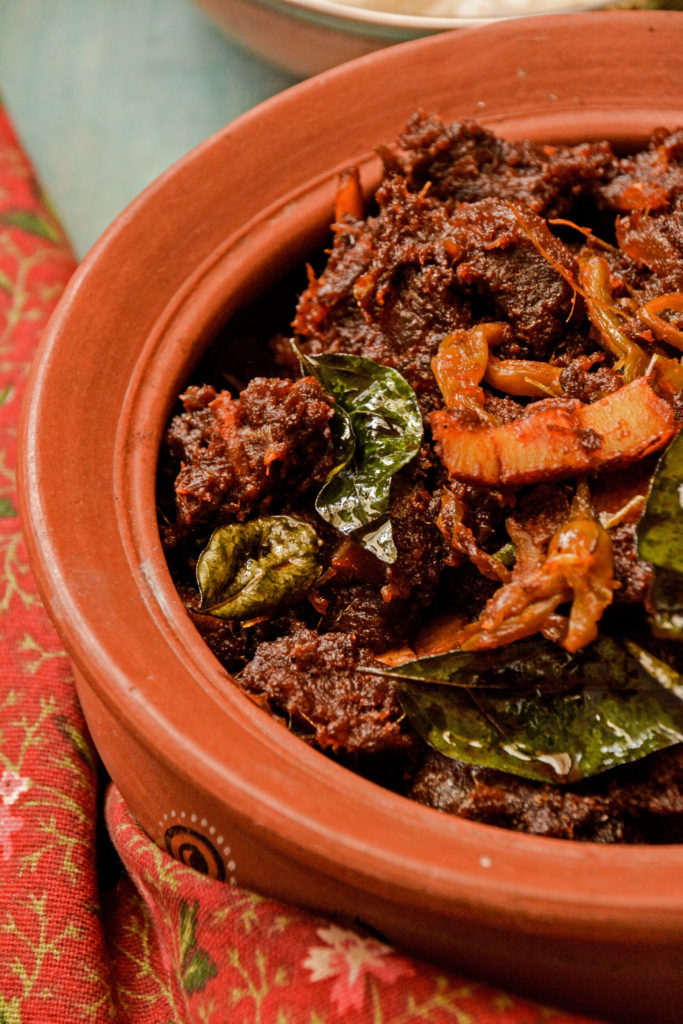 Nadan Beef Roast /Kerala Beef Roast
2018-04-01 10:27:39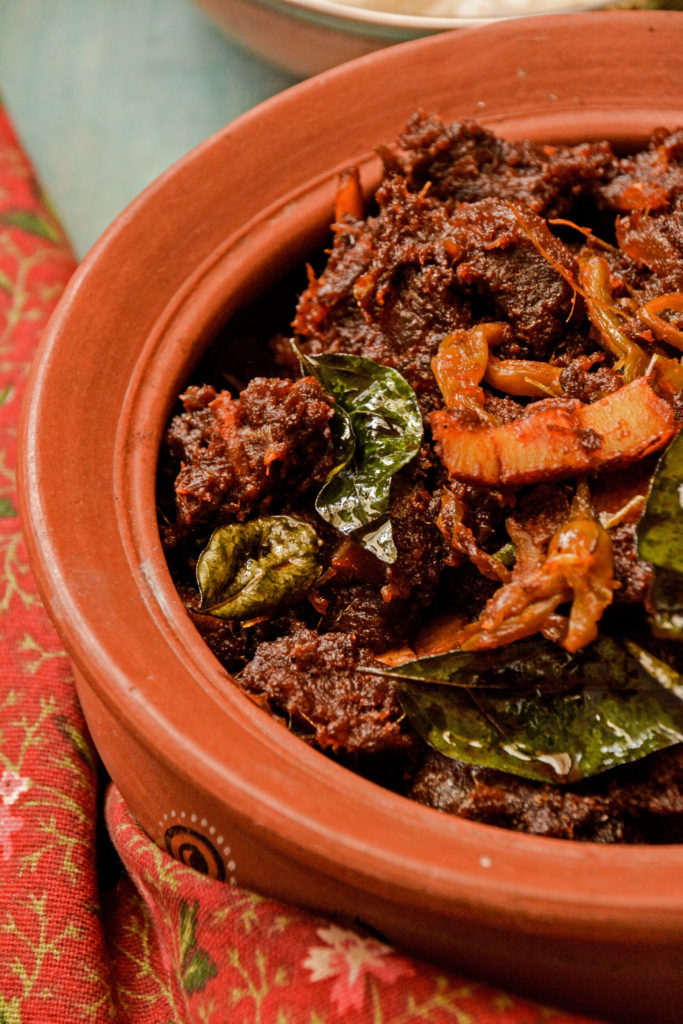 Nutrition Facts
Amount Per Serving
* Percent Daily Values are based on a 2,000 calorie diet. Your Daily Values may be higher or lower depending on your calorie needs.
Ingredients
1kg of beef
1/2 tsp of turmeric powder
4tsps of Kashmiri chilly powder
2tsps of Coriander powder
1 1/2 tsps of garam masala powder
1-2 tsps of black pepper powder
4 green chillies slit
2medium sized big onions sliced thin
1inch piece of ginger crushed
10 cloves of garlic crushed
1/2 cup of coconut chips sliced
1tbsp of vinegar
1 cup of shallots sliced .
Coconut oil
Curry leaves
Salt to taste
Instructions
Cut the cleaned beef pieces into small cubes .Marinate the beef pieces with chilli powder, green chillies , ginger , garlic , turmeric , coriander powder , garam masala, vinegar , curry leaves , big onion and salt to taste.Pressure cook the meat or cook the meat in a pot with water till it is very tender .In a wok , heat coconut oil , fry coconut pieces till crispy , add the sliced shallots , saute till translucent , pour the cooked meat with stock and mix.Evaporate the stock water so the meat is marinated ,Add in the pepper powder and continue frying .You can add in oil to the sides of the pan if it sticks too much .Once it becomes really dark brown in colour , all the moisture would have evaporated out .Garnish with curry leaves and take it off heat .
Nimi's Culinary Ventures http://nimisrecipes.com/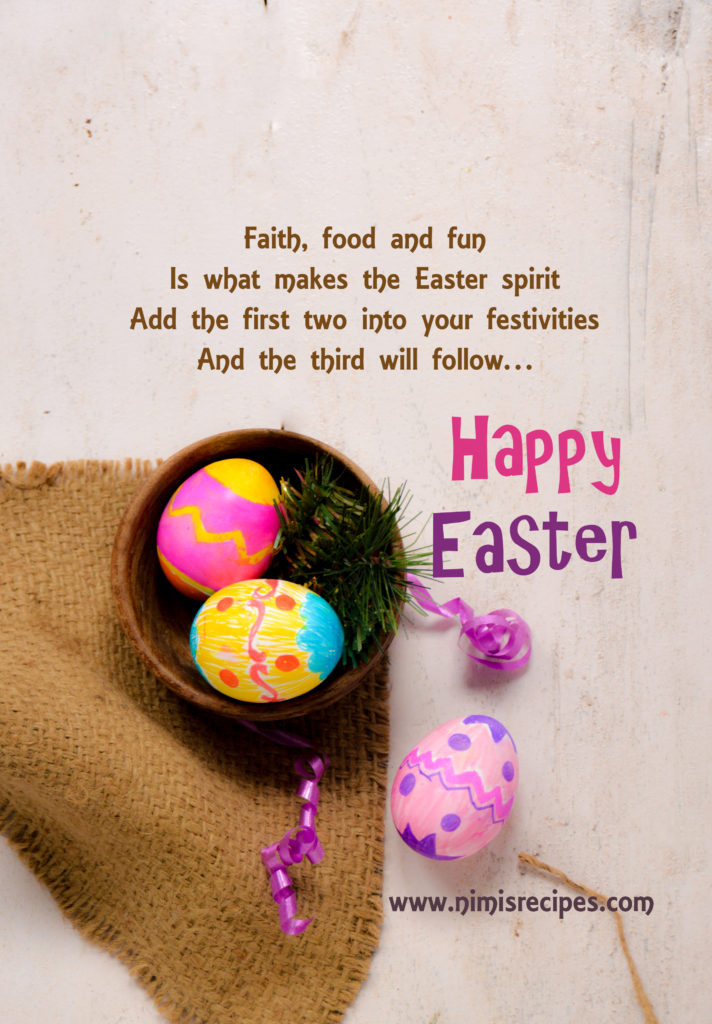 Vishu is the start of the new year in Kerala..the festival of lights and fireworks. Vishu always strikes pictures of the vibrant yellow Konna flowers (Cassia fistula) , the "Vishu kani " , Vishu kodi , the feast , the Vishu kaineettam …all floods in memories of childhood days..
Wishing all a happy and prosperous year with love, peace, hope and joy for the year ahead.
Happy Vishu !!!!
It's been like ages that I have been wanting to post on my space.. There's loads of things that had gobbled up my time to write n my blog. Well when school closed up for the monsoon vacations this time round I was the most eager one compared to my munchkins to go "home".Oh yes…even though you are married although you have a home here ,you still quote ur parents place as "home". It's not only my personal experience,but I think most women have this "home"sickness.I really chucked on this only when my colleague brought it to my notice.It was almost a month that I got with my parents in Thrissur..but this time round there came up a few surprises with media interviews, write-ups and the best part was being felicitated by the Thrissur Mayor , Mr.Rajan Pallan at the Council Meeting.
Karkidaka masam/Ramayana Masam /Karkidaka month is considered the last month ie. the twelfth month according to the Malayalam calendar followed in Kerala.This year the Karkidaka masam started on July 17th and ends by August 16th.The sacred scripture , Ramayana is recited during this month and so this month is also known as the Ramayana masam. It is to welcome the new year ie.The Chingam month that the Ramayana is recited from the starting to the end of the month. In Kerala , Karkidaka kanji is very famous which is a medicinal rice porridge that is very much healthy .The monsoon months are considered to the most appropriate time to have medicinal rice porridge. On my stay in Thrissur , I had the opportunity to meet up with Dr.K.S.Rajithan (Medical Superintendent ) of Oushadi Panchakarma Hospital and Research Institute,Thrissur.Dr. says ,"Its during the monsoons that the immune system of our body deteriorates and we are more prone to sickness, digestive issues and many ailments. .Our ancestors used to have many practices with Ayurveda to boost their immune system . So this is in fact is the most suitable time to have different kanjis (rice porridges) in your diet." During my period of stay in Thrissur there was a "Kanji Mela"(Rice Porridge fest ) organised by the Oushadhi Panchakarma Hospital Canteen.It was indeed a feast out there with 11 varieties of rice porridges each with special benefits.It was the Kudumbasree unit(a women empowerment cluster ) working in the fabrication of flavoursome dishes and variant rice porridges.
So coming over to the recipe, for this post..it is Jeeraka kanji /Cumin rice porridge.The courtesy for the recipe goes to Dr.Rajithan. This is a pretty easy recipe and its only the ingredients that you have to get hold on to to make the medicinal mix.Its best to have it for 14 days in the monsoons..
Jeeraga kanji
2015-12-09 06:24:38
Nutrition Facts
Amount Per Serving
* Percent Daily Values are based on a 2,000 calorie diet. Your Daily Values may be higher or lower depending on your calorie needs.
Ingredients
For the Medicinal Cumin mix
2 tsps of cumin (jeerakam)
2 tsps of black cumin seeds (karinjeerakam)
2 tsps of long pepper (thippalli)
2 tsps of Carom or Thymol seeds (Aimodagam)
2 tsps of Black peppercorns
2 tsps of dry ginger powder
For the porridge
80g of broken rice /podiari
1 litre of water
450ml of coconut milk
5gms of the medicinal mix
Salt to taste
2 tsps of ghee
3-4 shallots sliced
Instructions
Dry roast the ingredients for the medicinal cumin mix and powder it finely in a
blender.
 Store this mix in an airtight container.
 Wash the rice and cook it in a vessel with the required amount of water.
 When half cooked add in the powdered mix.
 Take care to keep stirring the porridge and keep on medium flame.
 Pour in the coconut milk and add salt.
 Cook till the rice is soft.
 Heat ghee in a small pan fry the shallots till caramel in color and pour over the rice
porridge.
 If you feel that the porridge is a bit bitter, add in 2 tsp of jaggery syrup to cut down the
bitterness.
 You can serve this hot /warm with pickle, vegetable stir fries, pappad or even with
fried salted curd chillies.
Adapted from Nimi's Culinary Ventures
Adapted from Nimi's Culinary Ventures
Nimi's Culinary Ventures http://nimisrecipes.com/
So enjoy this monsoon the healthy way!
Here's a glimpse of the media coverage..
I simply love Bilimbis..the thought of these green wonders can really sink a titanic in my mouth.Last month I was at my home for a marriage and I got to taste some of these green beauties pickled.During my college days eating  these with salt was in all means a total freak out for me.:P
My husband and dad are both cravers of this pickle.So when last week when I got a few kilos of freshly picked bilimbis..I pickled them 😉
Irumban puli Achar/Bilimbi pickle
1kg of bilimbis
2 tsps of mustard seeds
1 1/2 tsp tsp of urad dal
1/2 tsp fenugreek seeds
1tsp turmeric powder
4 tbsps of kashmiri chilli powder
1/4 tsp Asafoetida powder
3/4 cup of gingelly oil
salt to taste
curry leaves
Slice the bilimbis into four  lengthwise pieces and marinate them with salt.Keep it overnight and the next day ,keep them in sunlight for about 4-5 hours.Slightly roast the fenugreek seeds and urad dal and ground them into fine powder.In a kadai heat the gingelly oil and splutter the mustard seeds.Now turn off the flame and after a minute add in the powdered mix,asafoetida powder,turmeric powder,kashmiri chilli powder while stirring .Now add in the salted bilimbis and mix well till they are well blended with the masala.Add in the curry leaves.When it has cooled transfer them into clean and dry bottles.You can start using them within two days.In case after a week you feel the pickle is less spicy ,heat about 2 tbsp of gingelly oil and add a tsp or two of chilli powder and pour it over the pickle and mix well.
Hope u all will all love pickling these beauties as much as I did 😀
"maveli nadu vaneedum kalam,manusharellarum onnupole
amodhathode vasikkum kalam
apathangarkkumottillathanum
kallavum illa chathiyumilla
ellolamilla polivachanam
kallapparayum cherunazhiyum
kallatharangal mattonnumilla
adhikal vyadhikalonnumilla
balamaranangal kelppanilla"
Translation : "When Maveli, our King, ruled the land,
All the people were equal.
And people were joyful and merry;
They were all free from harm.
There was neither anxiety nor sickness,
Deaths of children were unheard of,
There were no lies,
There was neither theft nor deceit,
And no one was false in speech either.
Measures and weights were right;
No one cheated or wronged his neighbor.
When Maveli, our King, ruled the land,
All the people formed one casteless races"
(This song is one song that is sung over Onam)
I'm back after all the Onam celebrations in our family .It was indeed an eventful Onam this  year with our family gettogether.The kids were all having their piece of blast.Onam is a festival celebrated in Kerala with great pomp and food has great role to play with the traditional Sadhya and payasams..I have for all my friends my clicky Onam!;)
The recipe that I have in store for you are for homely crispy Tapioca chips..
Tapioca Chips/Kappa Varuthathu
Tapioca -2
1/4 cup of water
4-5 tsps of salt
1 tsp of Kashmiri chilli powder(optional for making spicy chips)
Oil for frying
Peel off the outer brown layers of the tapioca and thinly slice the tapioca chips on a slicer.In a glass stir in the salt and chilly powder to the 1/4 cup of water to make a salty solution.
Heat oil in a wok.Pop in the sliced tapioca and when slightly brown on the edges, pour 2tbsps of salt solution(make sure to keep  a distance from the oil as it will splutter badly).When the sound subsides a little laddle out the tapioca chips from the wok.Drain it on to paper towels to remove the excess oil.Crrunchy crunch them on with ur evening tea 🙂
The pookalam that we put up this year was a kathakali face and here's my clicky Onam for all my food buddies out there!
The best part after two months of heavy rain is when you see the sun smiling down on you.Clear blue skies and everything so green green..Hmm..by the way green reminds me of Okra.Yes today I have got a recipe for an Okra curry.If you are in the look out for a curry with cooked rice,this is a must try.
There's a  small surprise ..scroll down after the recipe..I  have a free giveaway of my cookbook
 "Lip Smacking dishes of Kerala"!


Vendakka(Okra) curry
1/4 kg okra cut into medium sized pieces
1cup shallots sliced
2 tomatoes cut into small cubes
1tsp Sambar powder
1 1/2 tsp coriander powder
3tsp Kashmiri Red chilly powder
1/4 tsp Yellow turmeric powder
tamarind(gooseberry sized)
1/2 tsp mustard seeds
1/4tsp  fenugreek seeds
oil for frying
curry leaves
salt to taste
For grinding
1 cup grated coconut
Heat a oil in a kadai  ,deep fry and separate the okra.Grind the grated coconut into a fine paste.
Heat 3tbsp of oil.Add in the mustard seeds and let it splutter.Then in goes the fenugreek seeds and curry leaves.Add in the sliced shallots and saute till translucent and spoon in the yellow turmeric powder, chilli powder, sambar powder and fry.Now fry in the tomatoes till cooked and add the coconut paste with 2 cups of water and stir.When the curry starts to simmer add in the fried okra pieces and the curry is ready to served with steaming rice.:)
"Lip Smacking dishes of Kerala" my venture in ink on the mesmerizing and aromatic Kerala cuisine.Indulge into the flavours of my land through the recipes…and make your kitchen smell..Yumm!I'll be giving away signe d copies of my book .The giveaway is global. 🙂
To be eligible for the Giveaway you have to do three things:
1.Subscribe to "Nimi's Culinary Ventures" in an RSS feed or through Email.
2.Become a fan of my Facebook page and FB cookbook page.
3.Leave me a comment telling me that you have done 1 &2  with your "Email id."
For additional entries:
4.Tweet about this giveaway on your blog or on Twitter
5.Do leave me a comment saying that you have done so that I can alott u an other entry 🙂
Deadline for entries of  this giveaway is Wednesday,31st of August 2011.The winner will be chosen through Random.


Wishin u all luck!:)