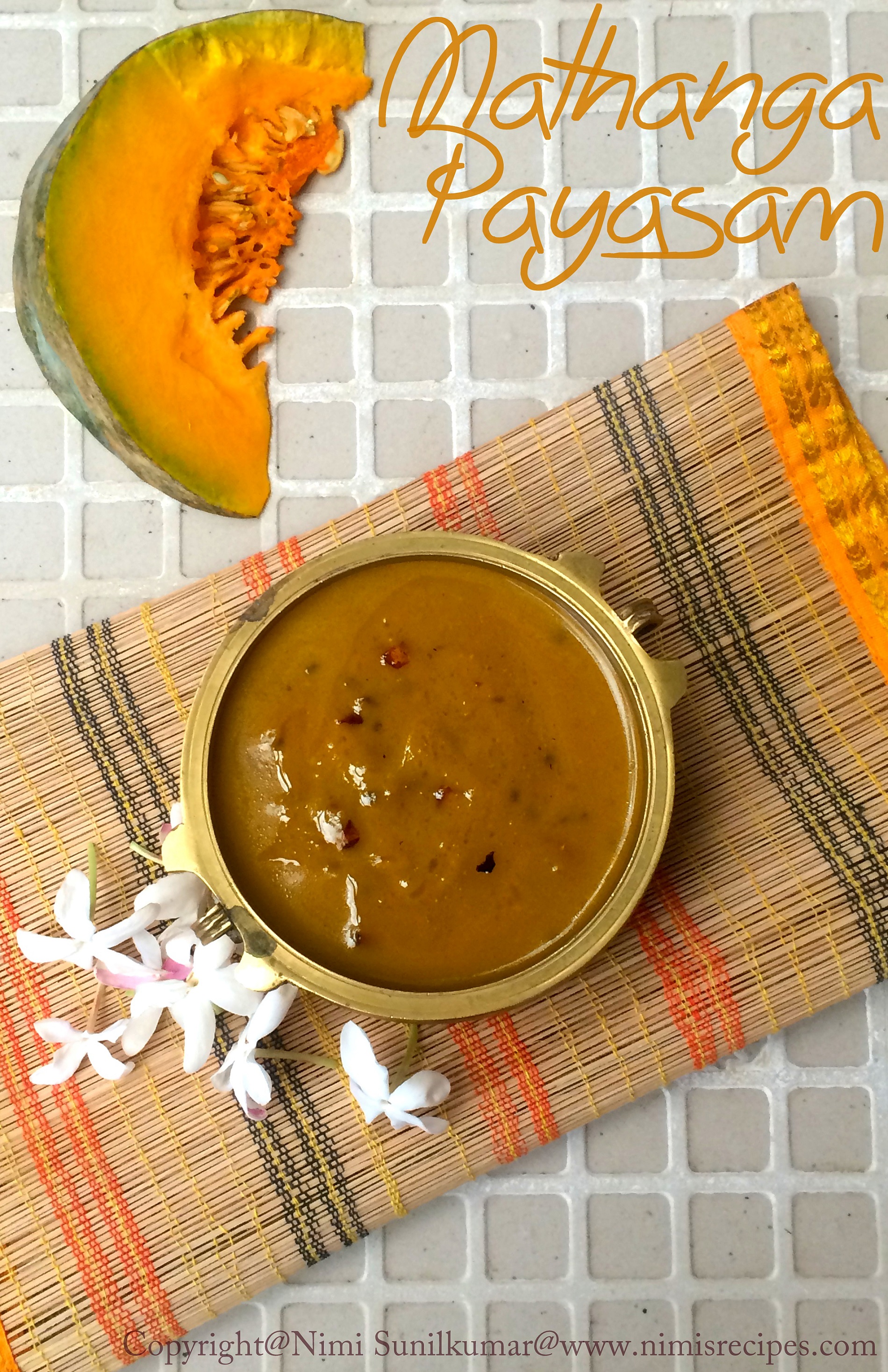 Onam holidays have started a break of ten days Onam being the state festival of our Gods own country titled Kerala! All over the state of Kerala, festive rituals, traditional cuisine, dance and music mark this harvest festival. The ten day Onam festival is celebrated floral carpets, traditional dance forms , onam sadhya-the feast on banana leaf, boat race….At school we had the teachers day and onam celebrations on adjacent days.The Thiruvonam day..the tenth day and the most sacred day of the celebrations…..its great fun all members in the family get together ,friends and relatives all ..the onamsadhya is prepared and served on the banana leaf with different curries , rice and desserts. This Onam I wanted to post the recipe of a special payasam .Payasam is basically the dessert that's served after the feast. Today's post is Mathanga Payasam /Pumpkin Payasam..
Mathanga payasam / Pumpkin Payasam
2015-11-29 23:01:08
Nutrition Facts
Amount Per Serving
* Percent Daily Values are based on a 2,000 calorie diet. Your Daily Values may be higher or lower depending on your calorie needs.
Ingredients
2 cups of pumpkin cubes (de skinned &deseeded)
3/4 cup of jaggery syrup
2 cups of thin coconut milk
1 cup of thick coconut milk
2 cardamoms crushed
4 tbsp of sago cooked in water
2 tsp of ghee
For Garnish
2 tsp of coconut pieces
2 tsp of cashews and raisins
Ghee for frying
Instructions
 Cook the pumpkins in water, sieve and blend into a smooth paste.
 Heat ghee in a heavy bottomed vessel and fry the pumpkin paste for about 5-10
minutes on medium flame.
 Mix in the jaggery syrup and keep on stirring.
 Let the jaggery syrup blend well in to the mix and then pour the thin coconut milk and
continue stirring.
 Add in the cooked sago balls and cardamom.
 When the milk starts thickening, pour in the thick milk and when it is on the verge of
simmering, turn off the flame.
 Fry out the coconut pieces in ghee along with the raisins and cashews and garnish
the pudding.
Adapted from Nimi's Culinary Ventures
Adapted from Nimi's Culinary Ventures
Nimi's Culinary Ventures http://nimisrecipes.com/
Serve it warm or cold and enjoy this onam !
It was while writing this post , I was reminded of a website I stumbled on to while browsing on apps that help you order food online in India.It has got everything that a foodie would want to devour from mughlai cuisine to south indian to pizzas..With a userfriendly interface and a catchy name "Foodpanda"
They cover most cities in India and when you have the app on your phone its pretty much more easier. Theres also city based pages like for Bangalore , Mumbai and Delhi .Well I have my foodpanda app on my phone..planning to use it once am in the listed cities. 🙂 Hope you all would find it equally handy 🙂
Being up all in festive mood,Heres the writeup on me that came up in Grihasobha Malayalam magazine (Delhi press publication)this September
So signing off for now …Wishing all a happy and prosperous onam!
It's been like ages that I have been wanting to post on my space.. There's loads of things that had gobbled up my time to write n my blog. Well when school closed up for the monsoon vacations this time round I was the most eager one compared to my munchkins to go "home".Oh yes…even though you are married although you have a home here ,you still quote ur parents place as "home". It's not only my personal experience,but I think most women have this "home"sickness.I really chucked on this only when my colleague brought it to my notice.It was almost a month that I got with my parents in Thrissur..but this time round there came up a few surprises with media interviews, write-ups and the best part was being felicitated by the Thrissur Mayor , Mr.Rajan Pallan at the Council Meeting.
Karkidaka masam/Ramayana Masam /Karkidaka month is considered the last month ie. the twelfth month according to the Malayalam calendar followed in Kerala.This year the Karkidaka masam started on July 17th and ends by August 16th.The sacred scripture , Ramayana is recited during this month and so this month is also known as the Ramayana masam. It is to welcome the new year ie.The Chingam month that the Ramayana is recited from the starting to the end of the month. In Kerala , Karkidaka kanji is very famous which is a medicinal rice porridge that is very much healthy .The monsoon months are considered to the most appropriate time to have medicinal rice porridge. On my stay in Thrissur , I had the opportunity to meet up with Dr.K.S.Rajithan (Medical Superintendent ) of Oushadi Panchakarma Hospital and Research Institute,Thrissur.Dr. says ,"Its during the monsoons that the immune system of our body deteriorates and we are more prone to sickness, digestive issues and many ailments. .Our ancestors used to have many practices with Ayurveda to boost their immune system . So this is in fact is the most suitable time to have different kanjis (rice porridges) in your diet." During my period of stay in Thrissur there was a "Kanji Mela"(Rice Porridge fest ) organised by the Oushadhi Panchakarma Hospital Canteen.It was indeed a feast out there with 11 varieties of rice porridges each with special benefits.It was the Kudumbasree unit(a women empowerment cluster ) working in the fabrication of flavoursome dishes and variant rice porridges.
So coming over to the recipe, for this post..it is Jeeraka kanji /Cumin rice porridge.The courtesy for the recipe goes to Dr.Rajithan. This is a pretty easy recipe and its only the ingredients that you have to get hold on to to make the medicinal mix.Its best to have it for 14 days in the monsoons..
Jeeraga kanji
2015-12-09 06:24:38
Nutrition Facts
Amount Per Serving
* Percent Daily Values are based on a 2,000 calorie diet. Your Daily Values may be higher or lower depending on your calorie needs.
Ingredients
For the Medicinal Cumin mix
2 tsps of cumin (jeerakam)
2 tsps of black cumin seeds (karinjeerakam)
2 tsps of long pepper (thippalli)
2 tsps of Carom or Thymol seeds (Aimodagam)
2 tsps of Black peppercorns
2 tsps of dry ginger powder
For the porridge
80g of broken rice /podiari
1 litre of water
450ml of coconut milk
5gms of the medicinal mix
Salt to taste
2 tsps of ghee
3-4 shallots sliced
Instructions
Dry roast the ingredients for the medicinal cumin mix and powder it finely in a
blender.
 Store this mix in an airtight container.
 Wash the rice and cook it in a vessel with the required amount of water.
 When half cooked add in the powdered mix.
 Take care to keep stirring the porridge and keep on medium flame.
 Pour in the coconut milk and add salt.
 Cook till the rice is soft.
 Heat ghee in a small pan fry the shallots till caramel in color and pour over the rice
porridge.
 If you feel that the porridge is a bit bitter, add in 2 tsp of jaggery syrup to cut down the
bitterness.
 You can serve this hot /warm with pickle, vegetable stir fries, pappad or even with
fried salted curd chillies.
Adapted from Nimi's Culinary Ventures
Adapted from Nimi's Culinary Ventures
Nimi's Culinary Ventures http://nimisrecipes.com/
So enjoy this monsoon the healthy way!
Here's a glimpse of the media coverage..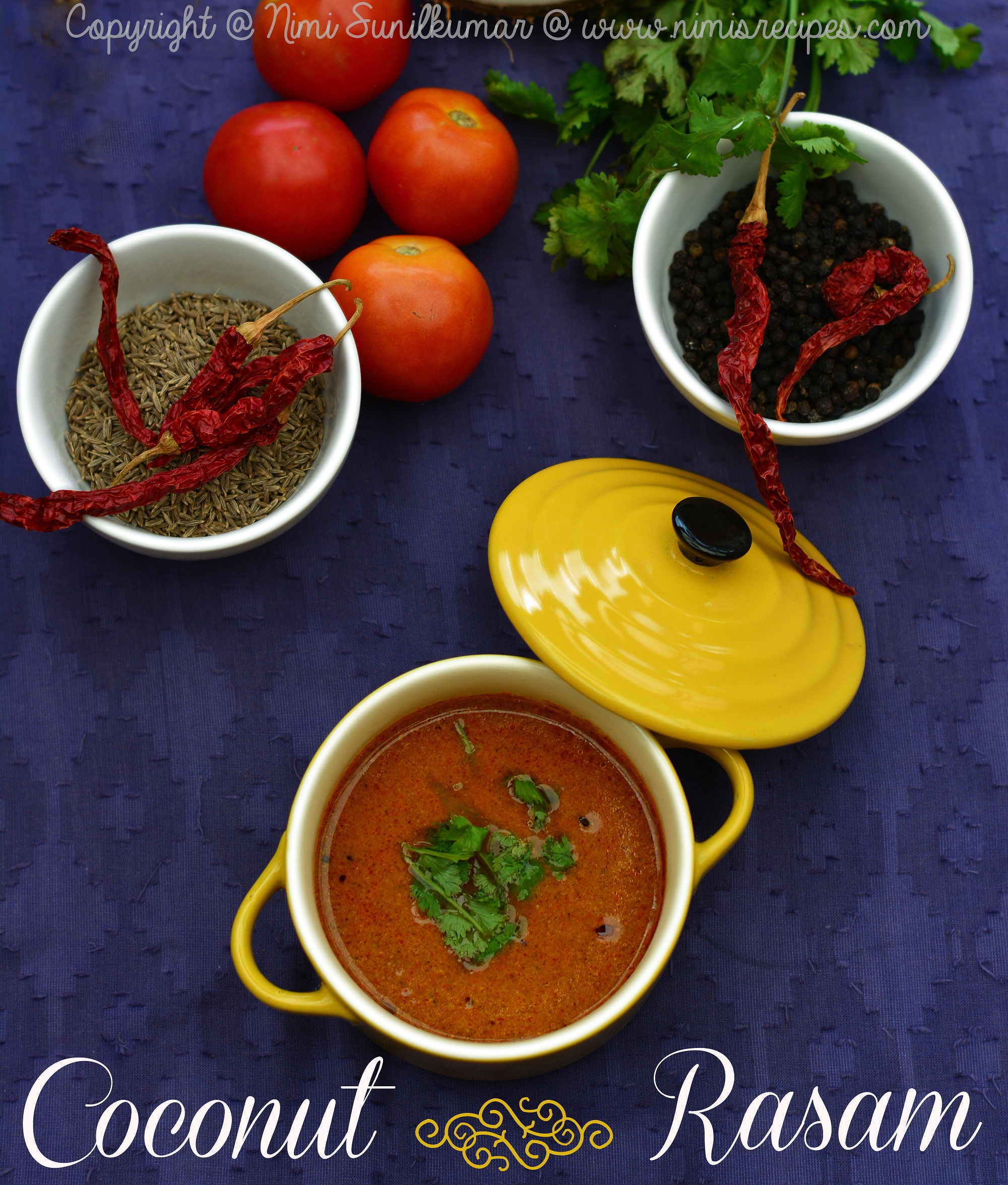 Hah! Laggin on posts ……………………….
I'm not able to update up my news after Beijing….Its been running around most days ………travelling up and down ,classes, school,kids, welcomings, interviews…….Achoo…………… sniff.. …..Achooooo…..yikes its Monsoon back in Munnar and I have been haywire in my schedules…latest update am down with a cold…..Sniff! Sniff! Theres just one more week left for the school to close for monsoon vacations here in Munnar..
Here are a few paper reports that came up in a few regional papers…

Season is up for coughs and colds……so how about a special rasam???This Rasam is the best thing to have with rice if you are down terribly with a cold or fever. It's more like a curry in its looks but is super Yumm soup!
Coconut Rasam
2015-11-29 23:43:13
Nutrition Facts
Amount Per Serving
* Percent Daily Values are based on a 2,000 calorie diet. Your Daily Values may be higher or lower depending on your calorie needs.
Ingredients
¼ cup of scraped coconut
2 tsp of cumin seeds
2 tsp of peppercorns
1 pod of garlic
A gooseberry sized ball of tamarind
1 tomato (medium sized)
½ tsp of turmeric powder
¼ tsp of asafoetida powder
1 ½ tsp of Kashmiri chilli powder
1 cup of water
8-10 shallots sliced
1tsp of mustard seeds
Coriander leaves
Salt to taste
Instructions
 Grind scraped coconut, cumin seeds, pepper, garlic and tamarind into and separate
the smooth paste.
 Slice the tomato and grind it into a paste and mix it with the coconut mix.
 Heat oil in a wok, splutter mustard seeds, sauté the shallots, add in the turmeric
powder and chilli powder, fry and pour in the ground mix.
 Keep stirring and when it starts boiling; add in a cup of water and salt to taste.
 When simmering, mix in asafoetida powder and a few chopped coriander leaves.
Serve with rice and enjoy the monsoon.
Adapted from Nimi's Culinary Ventures
Adapted from Nimi's Culinary Ventures
Nimi's Culinary Ventures http://nimisrecipes.com/