Growing your own vegetables for your daily needs makes food so much tastier. Organic farming is so much into these days. Making use the soil to grow your own vegetables and fruits make cooking much more divine. Born and raised in Abu Dhabi, living a city life, I haven't actually had a great exposure to farming or growing food during my childhood days. The vacation visits to Kerala to my parent's ancestral homes always excited me so much. I really awed the moment s when the whole family gets together spending time chatting, cooking, eating …It was a real fun to do things that you were not used to doing. Going fishing in ponds, picking fresh veggies, helping my mother and grandmother in cooking. There's a flush of memories that flow in when I look back.
After marriage, now a mother to two boys and living in Kerala … I also want to instill in my kids the value of growing their own food. I have a small backyard to the house where I live and every season it's a different set of veggies that are grown.A few months back I had asked one of our staffs to buy a batch of potatoes for home and the person wasn't very good at picking up the right potatoes and I ended up having slightly sprouted ones. In two days' time I had to travel to my in-laws home for family reasons and by the time I was back in my kitchen, it was pretty much all sprouted up. They were all cut up and shoved into the soil. Last week as my husband and kids were plucking some fresh tomatoes from our backyard, I noticed the potato plant and pulled out one to find the potatoes were all ready to be taken out of the soil. We got about 2-3 kilos of potatoes which pretty much a good amount to use up for our home cooking. And yesterday I used some of those to make some really crispy "Aloo tikkis" for my children as a snack for tea time. The rains have started off pretty quick this year round….So it's pretty much very satisfying to have some hot snacks with chai.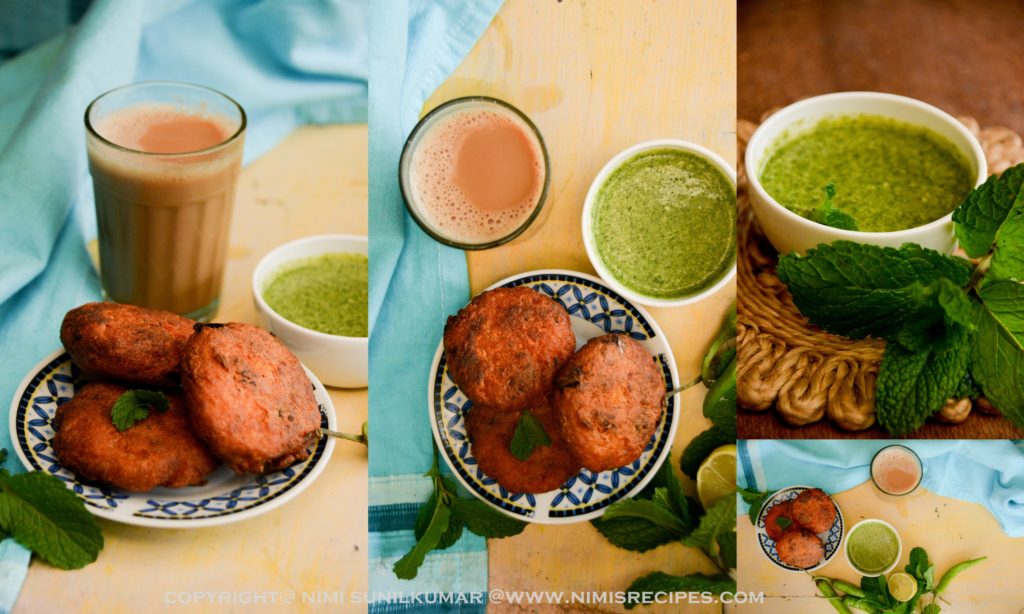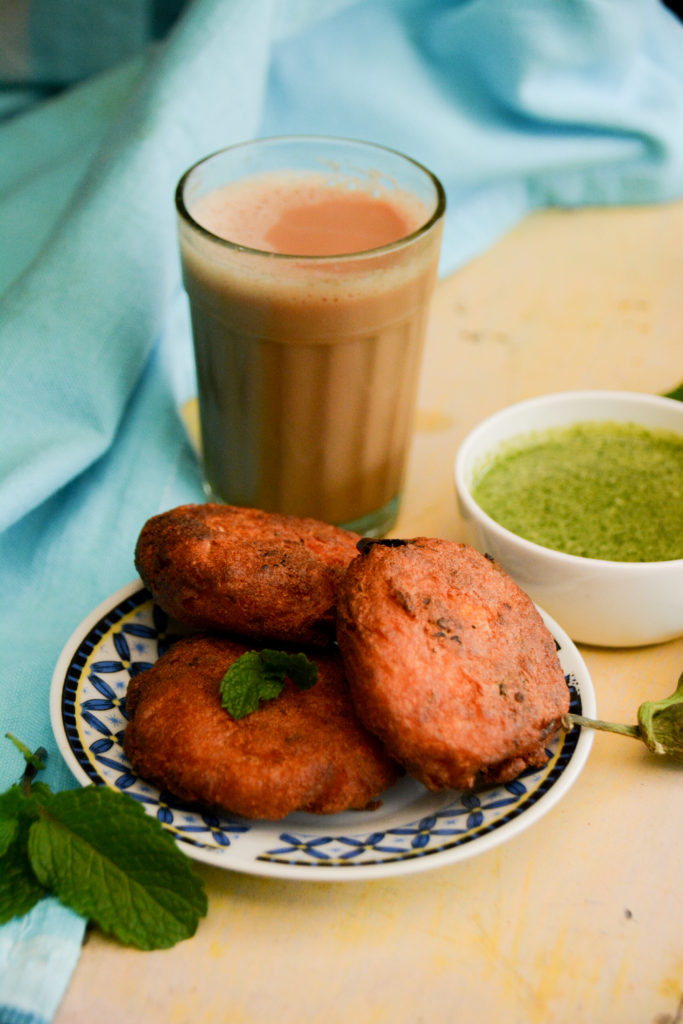 Aloo tikkis
2018-06-12 09:51:46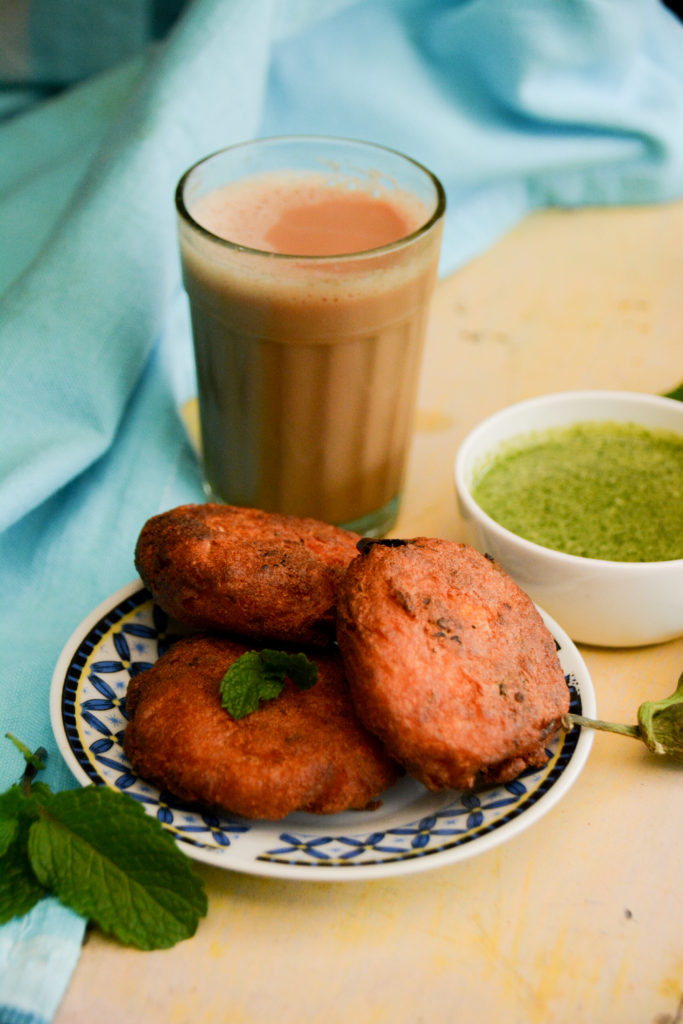 Nutrition Facts
Amount Per Serving
* Percent Daily Values are based on a 2,000 calorie diet. Your Daily Values may be higher or lower depending on your calorie needs.
Ingredients
3-4 medium sized potatoes boiled and peeled and mashed
3-4 green chillies chopped
½ tsp of cumin seeds
½-1tsp of chilli powder (u can vary it according to your spice preference)
½ tsp of turmeric powder
2 tsps of coriander leaves chopped
¼ tsp of dry mango powder or ½ tsp of lemon juice
2 tbsps of rice flour
Salt to taste
Oil for frying
Instructions
In a bowl mix in potatoes, green chillies ,cumin seeds, chilli powder , turmeric powder , coriander leaves , rice flour ,lemon juice or dry mango powder and salt . Pinch golf ball sized small portions, roll and flatten to make patties .Once shaped in to patties, heat oil in a wok and deep fry them till they are golden brown in color. Serve with green chutneys
Nimi's Culinary Ventures http://nimisrecipes.com/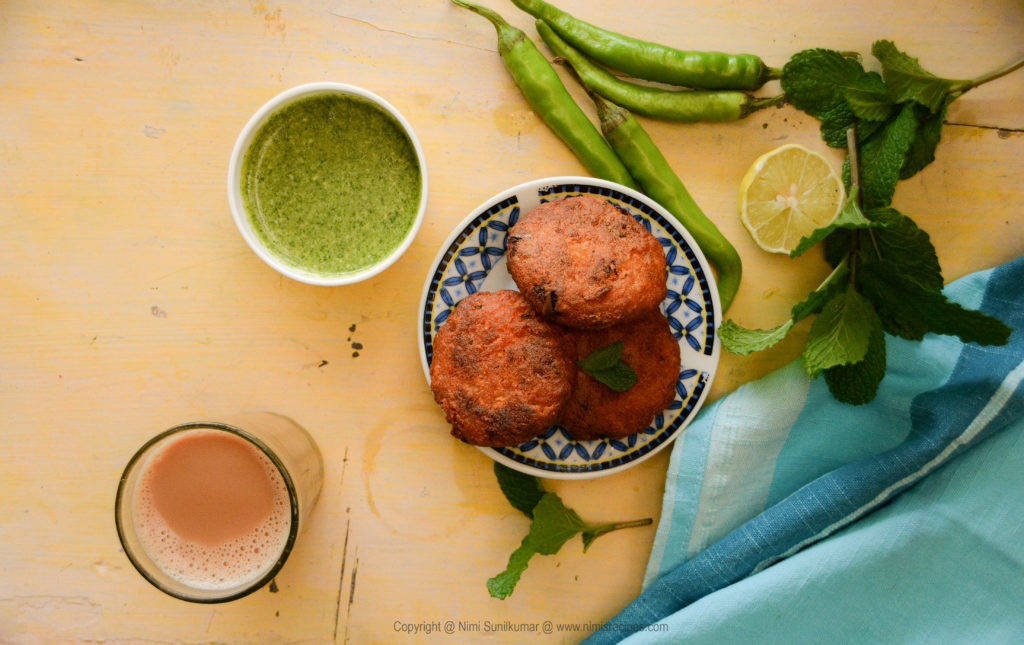 Green chutney
2018-06-13 11:48:04
Nutrition Facts
Amount Per Serving
* Percent Daily Values are based on a 2,000 calorie diet. Your Daily Values may be higher or lower depending on your calorie needs.
Ingredients
1 cup of fresh mint leaves
1/2 cup of fresh coriander leaves
2 green chillies
1 clove of garlic
1/4 inch piece of ginger
1 teaspoon of lime juice
1/2 cup of yoghurt
salt to taste
Instructions
Grind mint leaves , coriander leaves , garlic , ginger and lime juice into smooth paste in a blender.Mix in the yoghurt and salt .Serve it with the aloo tikkis !
Nimi's Culinary Ventures http://nimisrecipes.com/
Happiness lies in the joy of achievement and the thrill of creative effort.
Franklin D. Roosevelt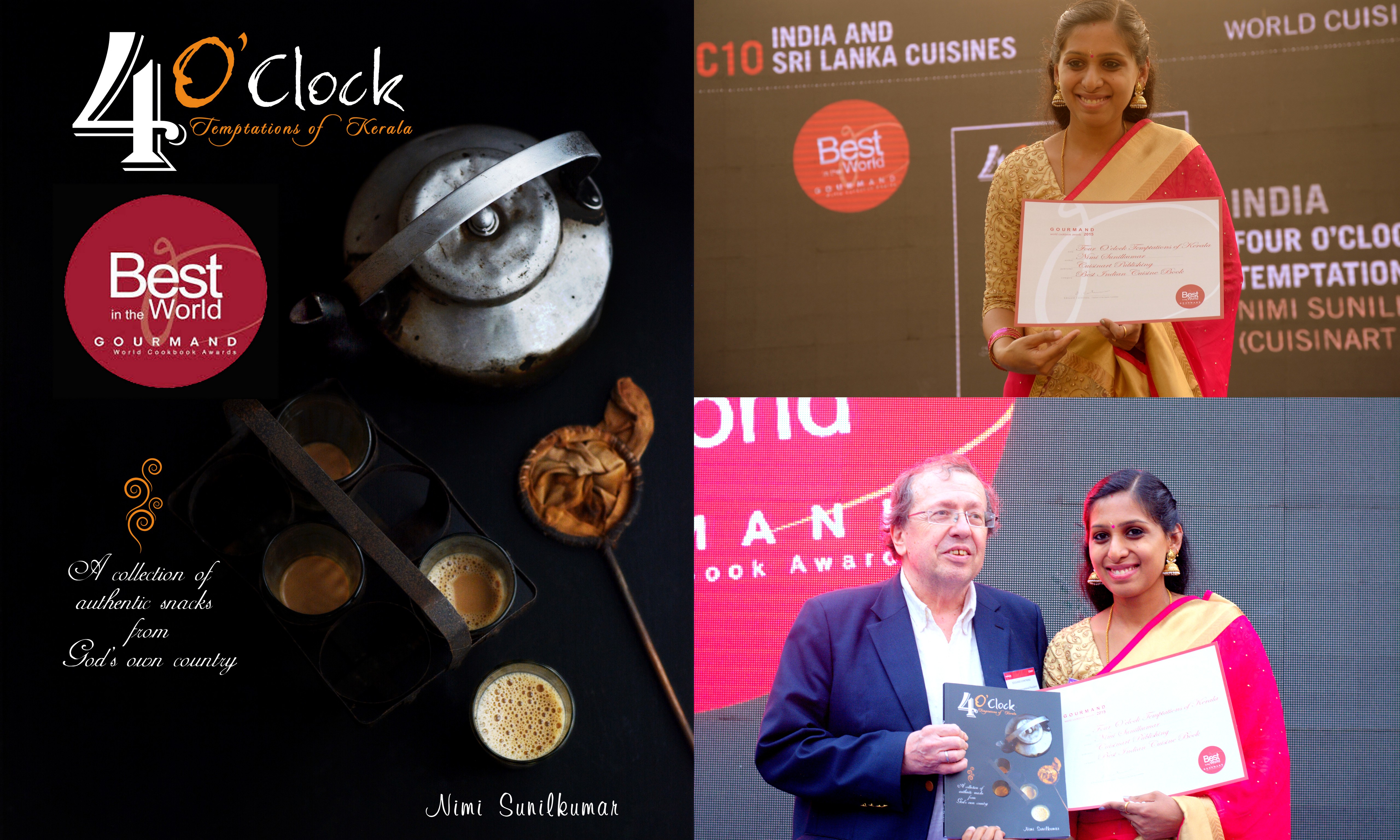 Indeed the thrill and joy of achievement is just unexplainable. Last year in the month of July when I was at my parents place for the monsoon break from school , I least expected the outcome of my long awaited cookbook "4 o' clock temptations of Kerala" .I have had the craziest as well as the most unexpected circumstances when I look back .I lost the data of my book thrice and then send it for print .Things were totally haywire with my harddisk broken , my laptops display dead and so on ….it was just never ending and I had time constraints as I was to exhibit my books at the Frankfurt World Book fair …When the book print was all sorted just two days before my flight I am informed that my visa got rejected ..It was totally devastating 🙁 ..to top all these my son was down with pneumonia .I tried my level best ..but unfortunately I couldnt make it to Frankfurt .The books were exhibited there as my brother was there for the event ..but it took me months to recover from the mishaps .
Whatever happened, happened for good.
Whatever is happening, is happening for good.
Whatever will happen, that will be for good as well. –
Bhagvad Gita
Its taken me a very long time to share with all of you the news of my book , but as its told better late than never ..so I am very happy , excited, thrilled, ..you can take up all the synonyms that can go with it ….to share with you all tht my cookbook , "4 o' clock temptations of Kerala " which is on the snacks of Kerala cuisine has won "Best Indian cookbook in the world " for the Gourmand world cookbook awards 2015-16 from 209 countries representing India .I seriously had no words to say on stage… when I was called up I was in all tears ….
Its great to win the Gourmand awards the second time and experience the whole event .Earlier it was for my cookbook "Lip smacking Dishes of Kerala" which won the 3rd Best Local Cuisine book in the world for 2013-14 at the Gourmand World cookbook awards from 187 countries representing India , held at Beijing , China .
Now to spice up all this news I have a recipe for a pickle that I made from the garden fresh cherry tomatoes…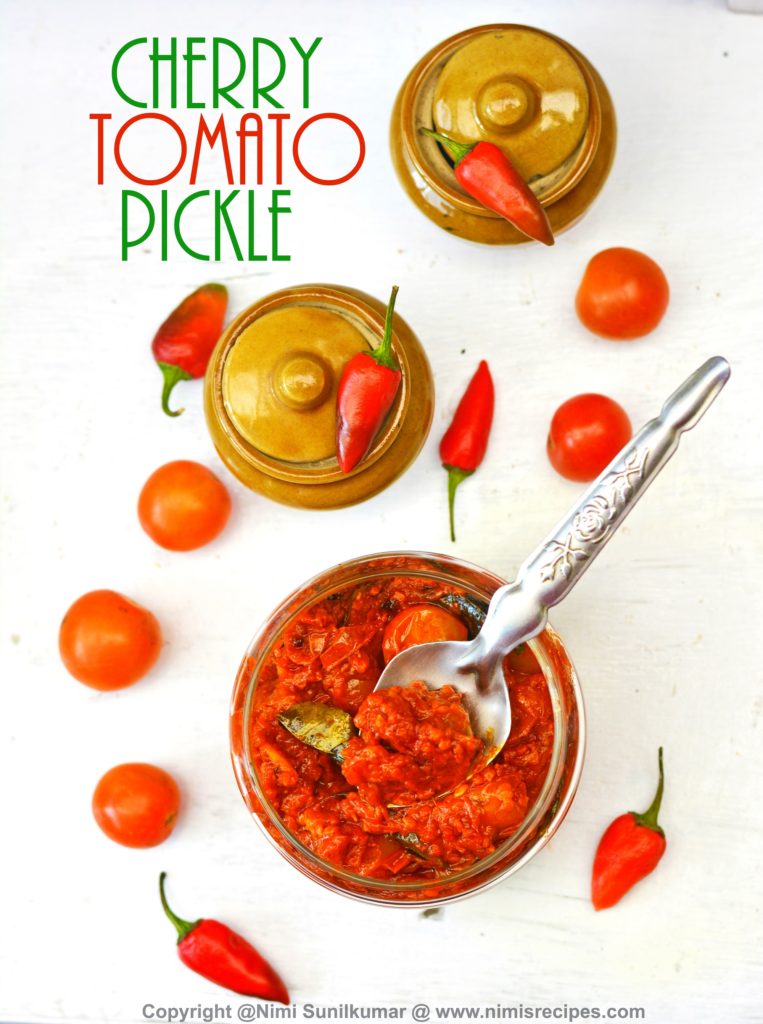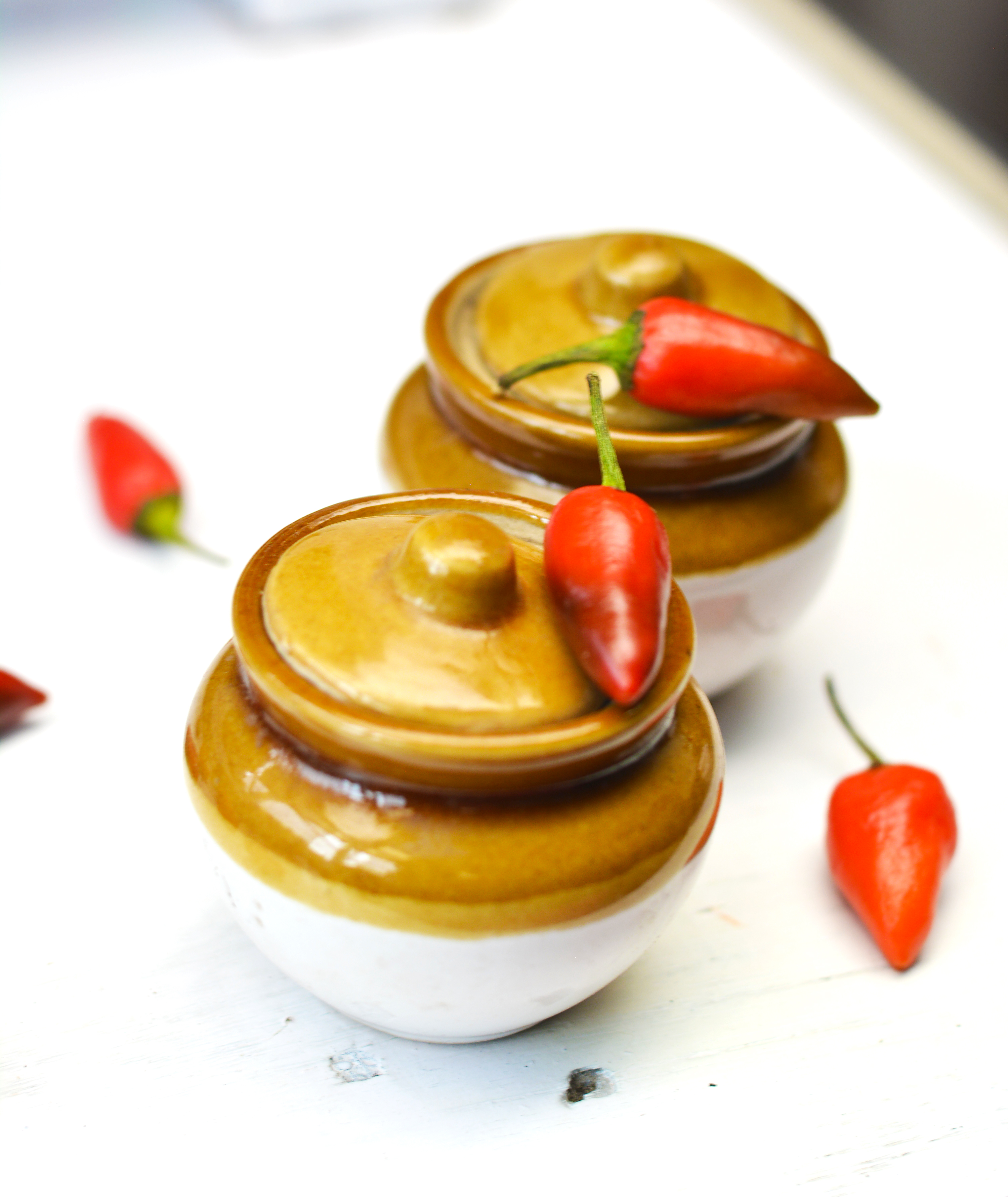 Cherry tomato pickle
2016-08-17 11:41:03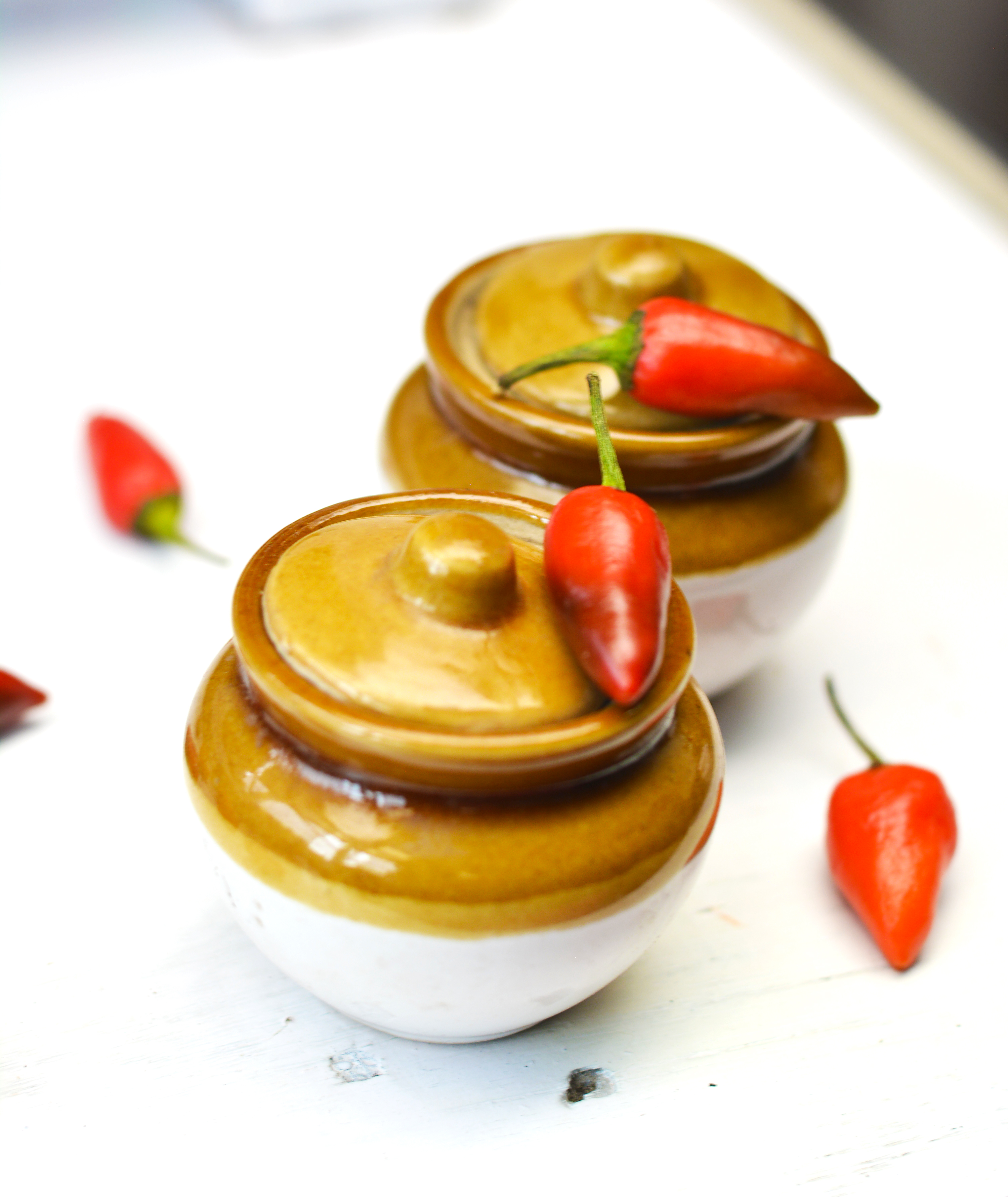 Nutrition Facts
Amount Per Serving
* Percent Daily Values are based on a 2,000 calorie diet. Your Daily Values may be higher or lower depending on your calorie needs.
Ingredients
1/4kg cherry tomatoes
2tbsp of kashmiri chilli powder
1/2 tsp of turmeric powder
2-3 green chillies chopped
1 small piece of ginger finely chopped
1 tsp of mustard seeds
1/2 tsp of fenugreek seeds
1/4 tsp of asafoetida powder
2-3 tbsp of oil
1/2 tsp of sugar
1 tbsp of vinegar
salt to taste
2-3 sprigs of curry leaves
Instructions
Heat a pan , add oil and fry the tomatoes till they shrink in size and seperate.In the remaining oil , pop mustard seeds, add fenugreek , ginger, green chillies and stir fry them for a minute or two on med flame .Lower the flame and stir in the turmeric and kashmiri chilli powder .Once the oil starts seperating add in the vinegar .I added a little extra vinegar so that i can cook the the sauce a bit more .You can also add water but that at times accelarates mould growth in the pickle .
Now mix in the fried tomatoes , add sugar , asafoetida , salt and curry leaves .Turn off the flame and let it cool before you bottle them .
Enjoy these pickles with rice or rotis ...
Nimi's Culinary Ventures http://nimisrecipes.com/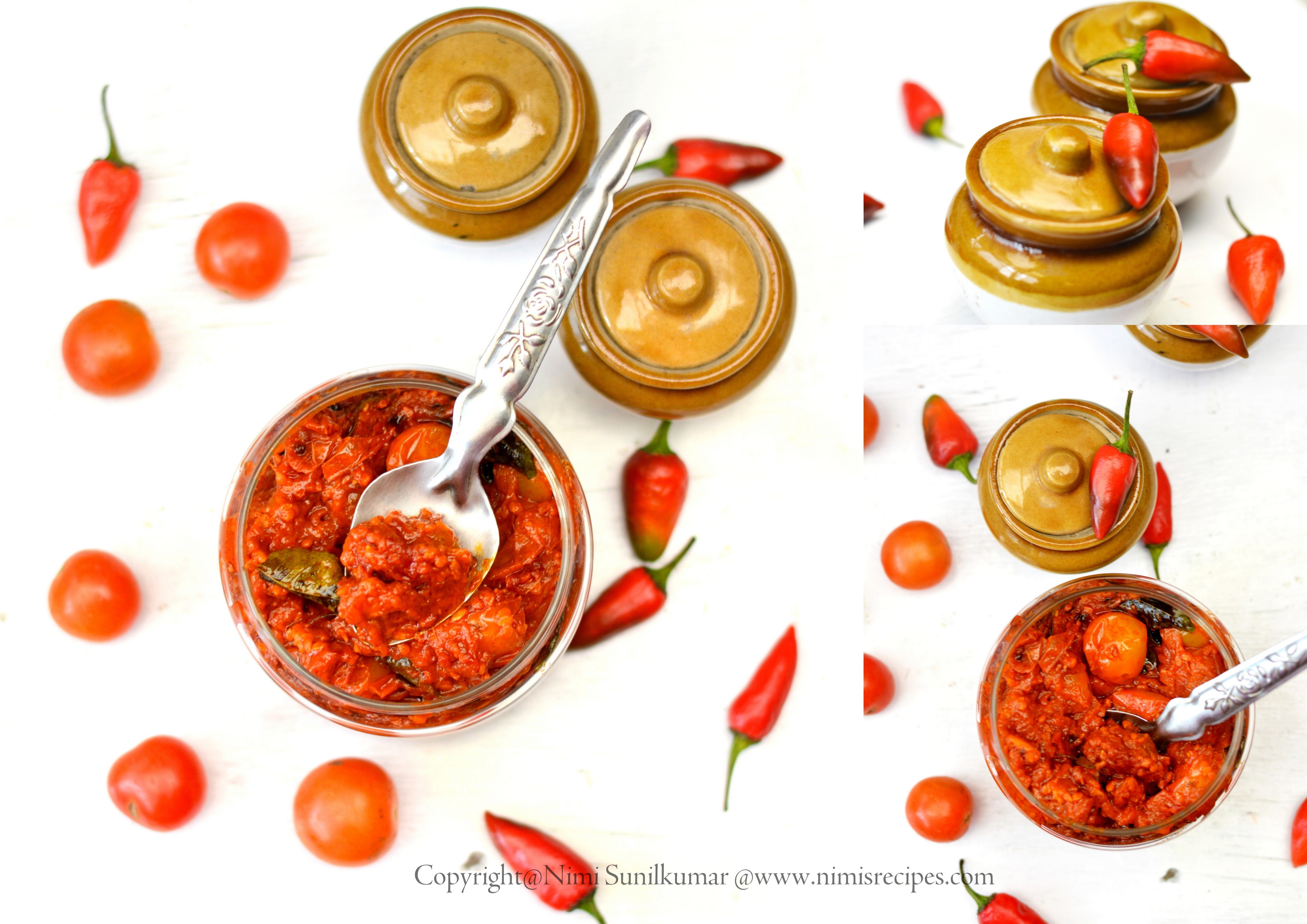 A few months back when Facebook team contacted me to do a video on my journey from a homemaker to an entrepreneur I had no clue of what to expect .My latest cookbook "4 o' clock temptations of Kerala " won the "Best Indian cuisine book in the world" for the Gourmand world cookbook awards 2015-16.A few weeks back I received an email from Facebook India with the statistics of the reach…"The video had reached 600,000 people across India! The video itself has been viewed 300,000 times "
I whole heartedly thank all the wonderful people who had viewed,supported,encouraged ,shared and liked the video .Kudos to YourStory for the wonderful video 🙂
Watch how Nimi Sunilkumar's Cooking School used Facebook to spread awareness of her cooking classes and grow her business.

Posted by Facebook on Wednesday, April 13, 2016
Greg Grano and Sarah Sellman two wonderful filmmakers from SanFrancisco did a portfolio on me for the website Hooplaha-Only good news ..it was just magic as the video is very close to my heart ..
Its crazy when I look back and see how my passion for food has created magic …the magic of following my heart!!!
var _gaq = _gaq || []; _gaq.push(['_setAccount', 'UA-35896180-1']); _gaq.push(['_trackPageview']);
(function() { var ga = document.createElement('script'); ga.type = 'text/javascript'; ga.async = true; ga.src = ('https:' == document.location.protocol ? 'https://ssl' : 'http://www') + '.google-analytics.com/ga.js'; var s = document.getElementsByTagName('script')[0]; s.parentNode.insertBefore(ga, s); })();
There's been quite a lot of happenings in my life for the past months..that I am not able to update my blog regularly.I have joined at my son's school as a Culinary teacher for the High Schoolers .Its been quite fun being with my kids even at school 😉 In addition to my school work, my  Lip Smacking Classes  on Kerala Cooking  are in full progress on weekdays.
A perfectly new environment..its been quite challenging to bring my horses on the right road.. trying to bring a balance at home and work.There was a Salad making competition at school which was between the 11th and 12th grades.The ideas that the kids came up was indeed a feast to the eyes.I am planning to post some of their recipes in my next post.So wait and watch out.:)
Today's post is dedicated to my wonderful Culinary students of HRS.This was one of their nutty and spicy treats!
Peanut & Potato Pancakes with Coriander Chutney 
For the Pancakes
4tbsp of rice flour
2 small potatoes peeled and grated
1 big onion chopped
2 tbsps of roasted peanuts
salt to taste
Combine  all the ingredients with  about 3-4 tbsp of water in a bowl and mix well to make a dough.Divide into equal portioned balls.Heat a tawa.Smear oil on ur palms ,flatten the balls into thin circles and  cook on both sides on the tawa by drizzling  little oil .
For the Coriander Chutney
2 cups of coriander leaves chopped
1 cup grated coconut
4 green chillies
2-3 shallots
juice of 1 lemon
salt to taste
Combine all ingredients except for the lemon juice and grind into a smooth paste in a blender using very little water.Mix in the lemon juice,refrigerate and use with the pancakes.
The Monsoons have started in Munnar..enjoy the rain with hot pancakes and chutney!

I simply love Bilimbis..the thought of these green wonders can really sink a titanic in my mouth.Last month I was at my home for a marriage and I got to taste some of these green beauties pickled.During my college days eating  these with salt was in all means a total freak out for me.:P
My husband and dad are both cravers of this pickle.So when last week when I got a few kilos of freshly picked bilimbis..I pickled them 😉
Irumban puli Achar/Bilimbi pickle
1kg of bilimbis
2 tsps of mustard seeds
1 1/2 tsp tsp of urad dal
1/2 tsp fenugreek seeds
1tsp turmeric powder
4 tbsps of kashmiri chilli powder
1/4 tsp Asafoetida powder
3/4 cup of gingelly oil
salt to taste
curry leaves
Slice the bilimbis into four  lengthwise pieces and marinate them with salt.Keep it overnight and the next day ,keep them in sunlight for about 4-5 hours.Slightly roast the fenugreek seeds and urad dal and ground them into fine powder.In a kadai heat the gingelly oil and splutter the mustard seeds.Now turn off the flame and after a minute add in the powdered mix,asafoetida powder,turmeric powder,kashmiri chilli powder while stirring .Now add in the salted bilimbis and mix well till they are well blended with the masala.Add in the curry leaves.When it has cooled transfer them into clean and dry bottles.You can start using them within two days.In case after a week you feel the pickle is less spicy ,heat about 2 tbsp of gingelly oil and add a tsp or two of chilli powder and pour it over the pickle and mix well.
Hope u all will all love pickling these beauties as much as I did 😀
Its quite some time since I  put up my posts frequently…its been quite a busy week for me with my kids.My younger one has got his attack of flu as it has started raining here.As every kid likes to play in the rain..hes up with his own pranks…:D
The recipe that I'm posting today is Semolina Onion Vada with Bengal gram chutney.I love hot n spicy fried  items when its cold and raining with a hot cup of tea!:P
Heres the recipe
Semolina Onion Vada
3 cups of roasted semolina
3/4 cup all purpose flour
1/2 cup rice flour
5 green chillies chopped
a small piece of ginger chopped
1/2 cup of small onions/shallots chopped
1/2 cup of coriander leaves chopped
1 tsp baking soda
1 cup yogurt
1 cup water
salt to taste
oil for frying
Mix all the ingredients together so that it becomes a sticky dough.Make small balls of the mix ,flatten them to make thin discs with the palm of your hands(make sure to wet ur palms) and fry them out in hot oil till golden brown in colour.
Bengal gram Chutney
1 cup grated coconut
1/2 cup Bengal gram
3-4 dry red chillies
2 small onions
a small ball of tamarind
salt to taste
Grind all the above ingredients in a blender with required amount of water .
For seasoning
1/2 tsp mustard seeds
2 dry red chillies (broken)
5-6 curry leaves
2 tsp coconut oil
Heat a oil in a small pan and pop the mustard seeds.Add the dry red chillies and curry leaves to it and pour it over the chutney.
Serve the hot vadas with chutney!
Enjoy ur monsoon!:)
This one was my grandma's masterpiece.I must say the thought of this dessert made from ripe jack fruit makes me drool.. This jackfruit jam can be used to make Elaappams/Idanaappams .Although the dish consumes time,I must say its worth trying..
1kg of the ripe jackfruit's flesh pieces
500g jaggery
5tbsp ghee
5 cardamoms crushed
1/2 tsp dry ginger powder
Deseed the flesh pieces of the jackfruit and cut them into small pieces.
Melt the jaggery pieces to get a syrup
Pressure cook them with 1/2 cup of water so that they are well cooked.
In a heavy bottomed pan on flame pour ghee
Add the cooked jackfruit to the pan and mash them
When the water gets evaporated, add the jaggery syrup and continue stirring
Stir well till the the jaggery jack fruit mix starts getting sticky
Take care to stir the mix well avoiding from sticking to the vessel
Add the crushed cardamoms and dry ginger powder,stirring well
When it thickens well remove from flame
Let it cool and then store them in air tight containers